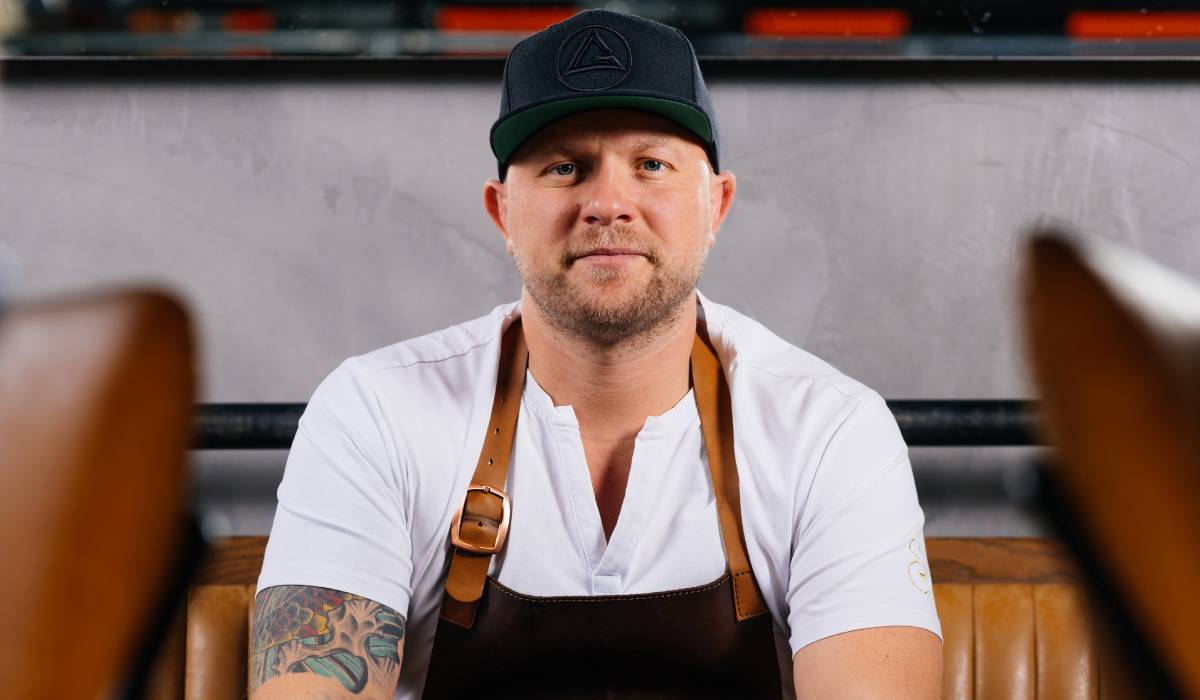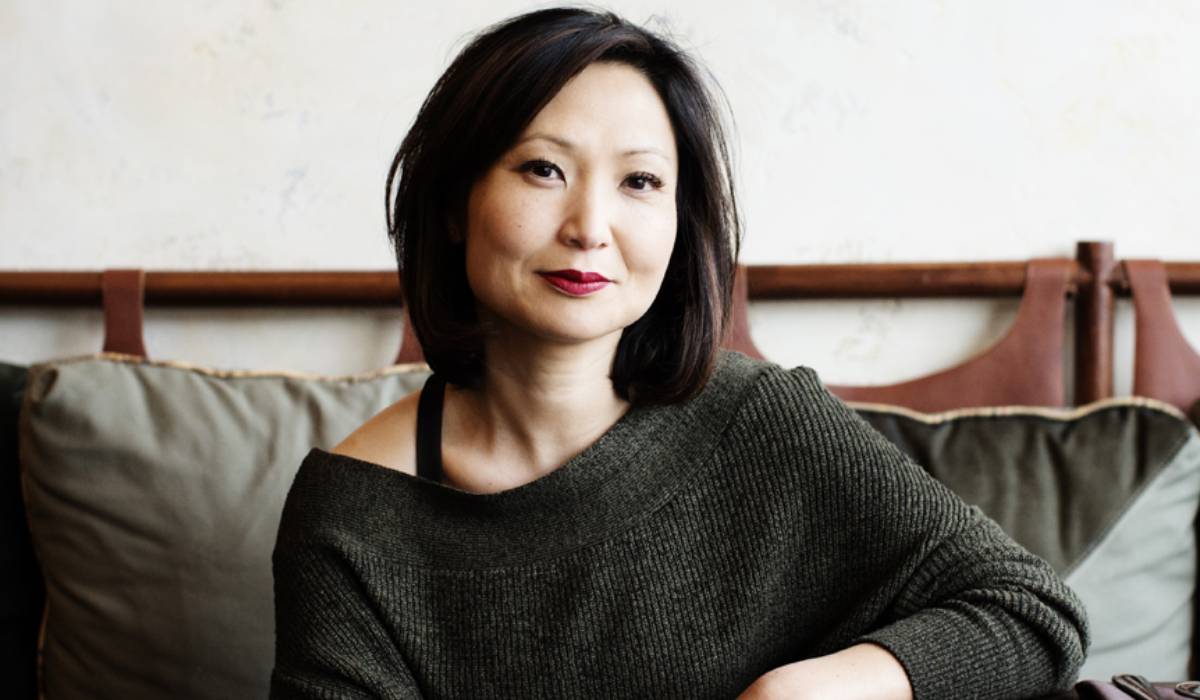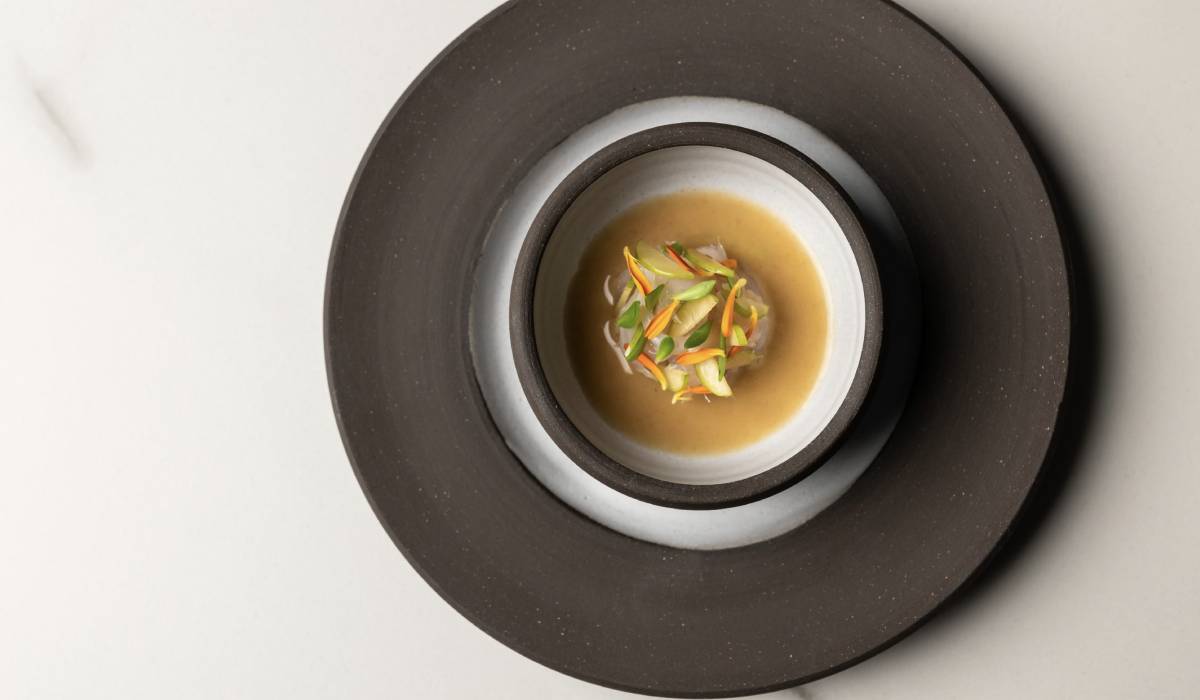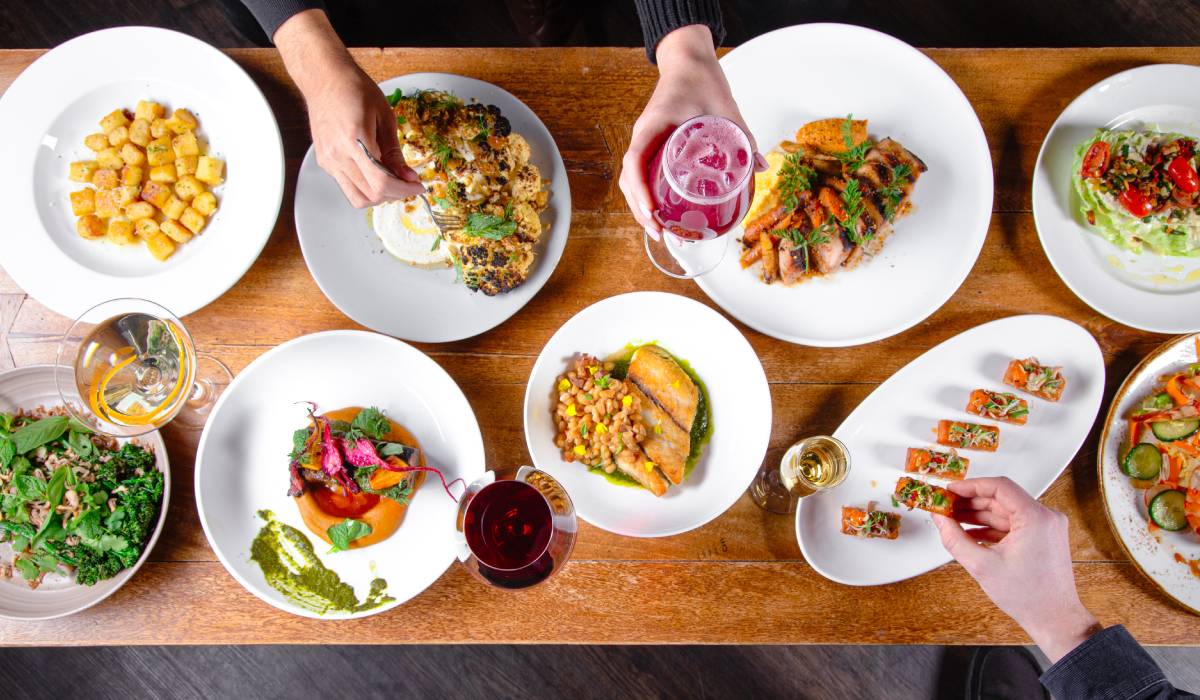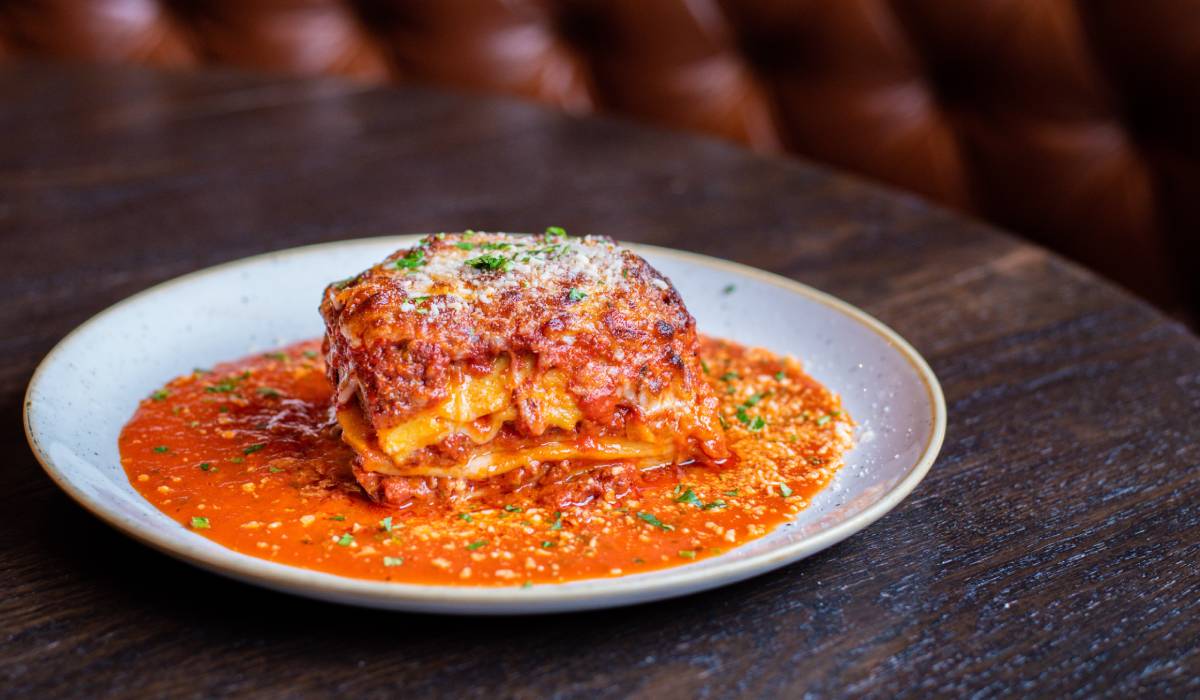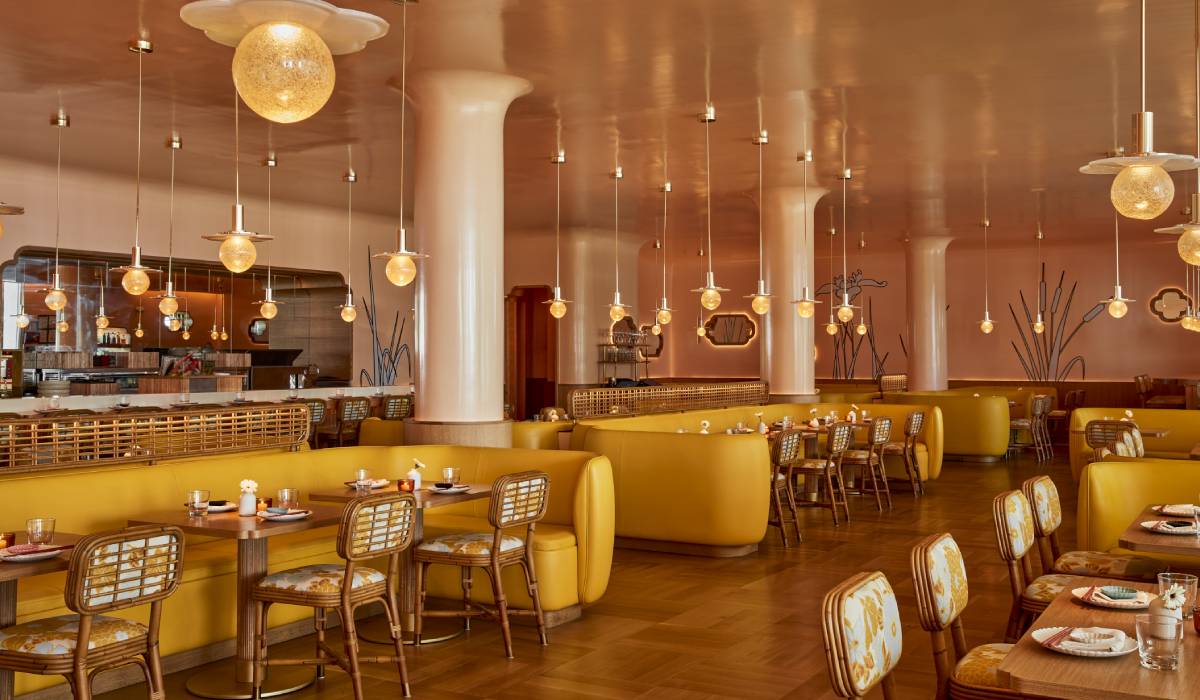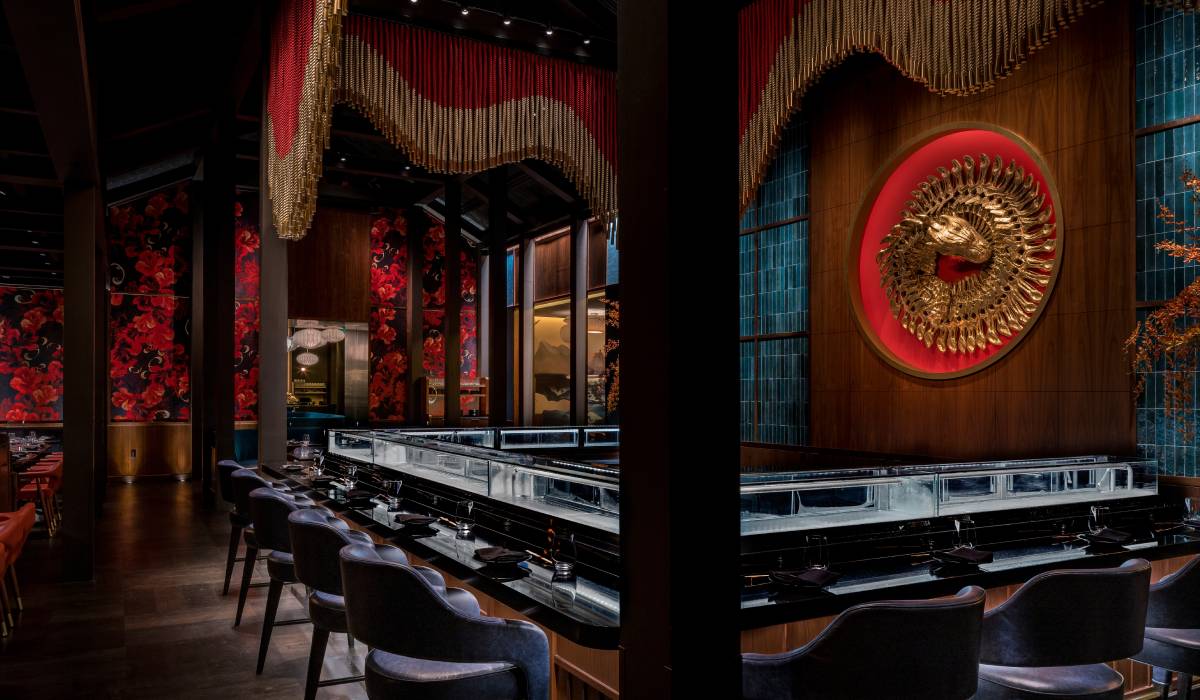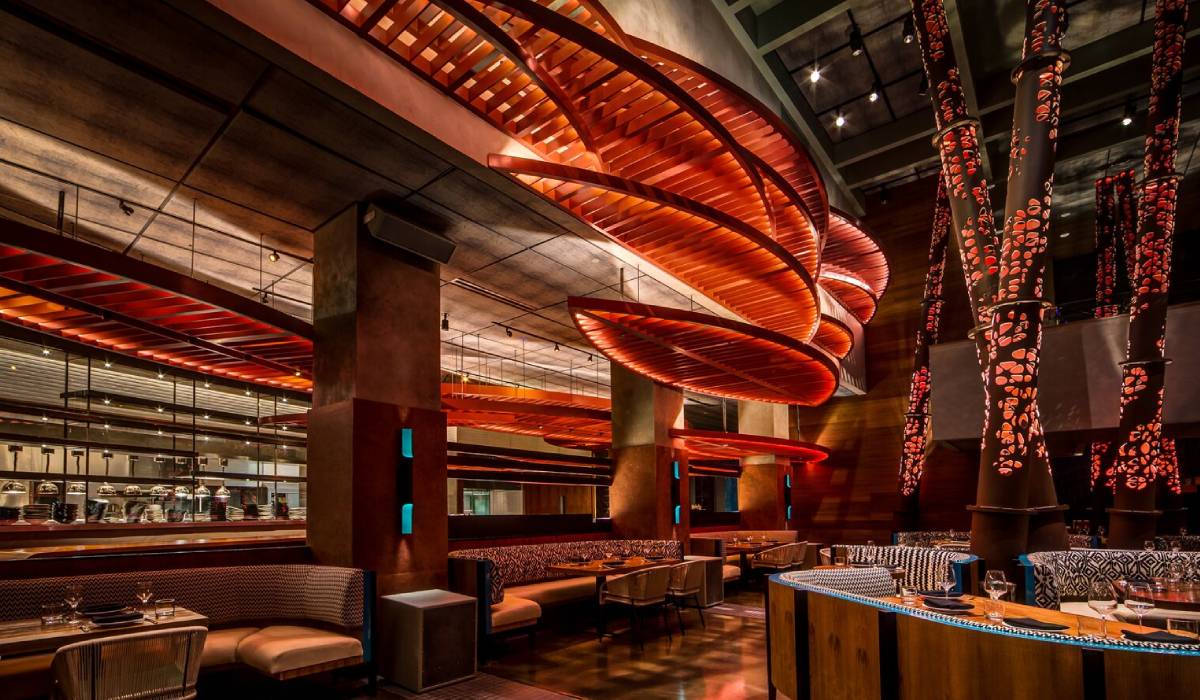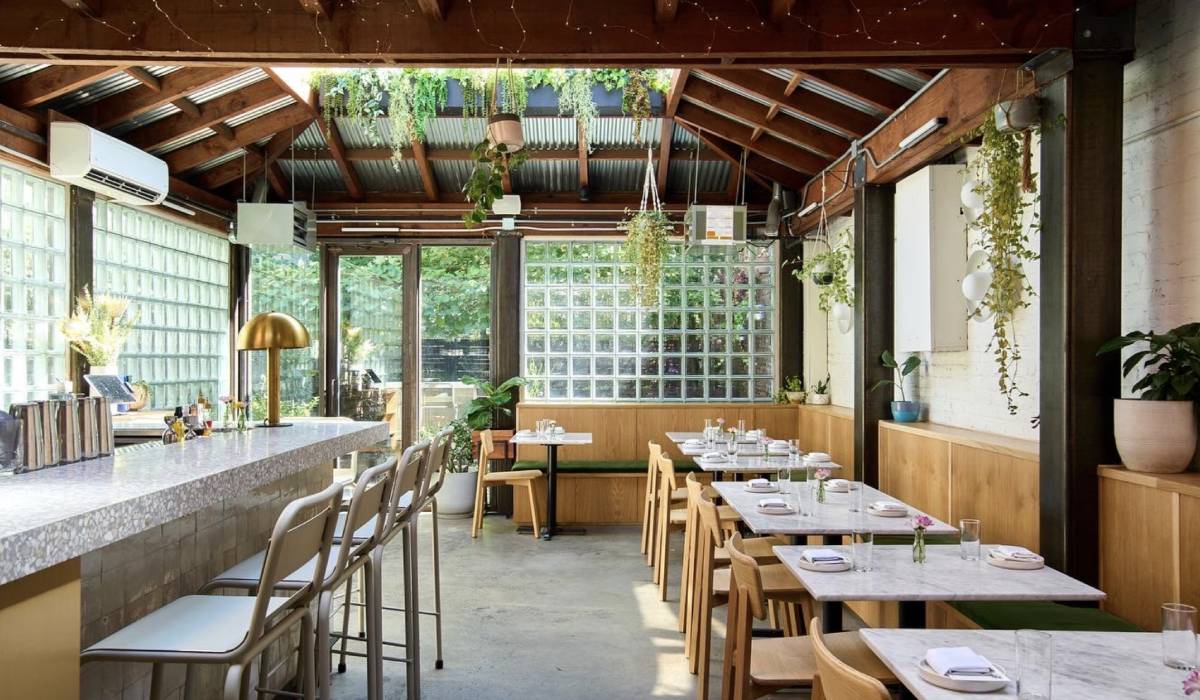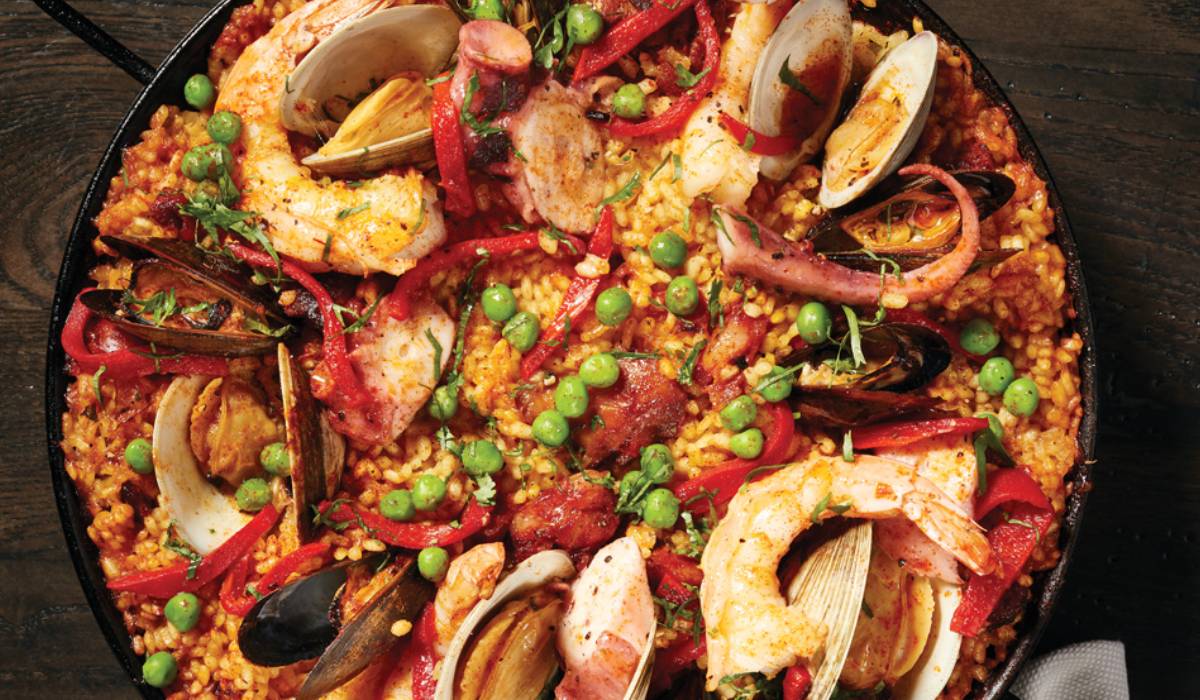 Heirloom Kitchen
Old Bridge, New Jersey
Opened: 2013
Cuisine Type: New American
Owner(s): Chef David Viana and Neilly Robinson
Heirloom Kitchen is a dynamic culinary hub encompassing a farm-to-table restaurant, a recreational cooking school, and a retail boutique. The restaurant offers New American cuisine with a strong focus on seasonality. Guests can enjoy chef's table seating where they watch Executive Chef David Viana and his team prepare and present their dishes.
Image credits:Heirloom Kitchen
Mister Mao
New Orleans
Opened: 2021
Cuisine Type: Asian Fusion
Owner(s): Chef Sophina Uong and William "Wildcat" Greenwell
Helmed by Chef Sophina Uong in New Orleans, Mister Mao has gained acclaim for its inventive "inauthentic" cuisine that merges Uong's Cambodian-American heritage with Southern techniques. With playful menu categories like "Foods We Don't Have to Share" and "Here Comes the Chuck Wagon," diners can enjoy serious food in a lighthearted atmosphere.
Image credits:James Collier, Paprika Studios
Oxalis
Brooklyn, New York
Opened: 2016
Cuisine Type: Contemporary French-American
Owner(s): Chef Nico Russell
This Michelin-starred restaurant and neighborhood bistro is just steps away from the Brooklyn Museum, and helmed by Chef Nico Russell. The restaurant offers two dining options: a seasonal carte blanche menu in the intimate dining room, and a three course prix-fixe at the Bar at Oxalis and garden hidden behind the restaurant. The menu, inspired by Chef Russell's travels and experiences, showcases a dynamic array of flavors and textures spanning halibut cooked on the bone with ramps and peas, to five-spice country rib chop with radish and black garlic.
Image credits:Oxalis
Copine
Seattle, Washington
Opened: 2016
Cuisine Type: New American
Owner(s): Chef Shaun McCrain, Jill Kinney
Copine, which translates from French as "comrade" or "pal," is a culinary gem located in Seattle, Washington, and is owned and operated by Chef Shaun McCrain and his wife, Jill Kinney. Since its opening in 2016, Copine has garnered accolades for its exquisite French-inspired cuisine with a Pacific Northwest twist. The dinner menu is a three-course prix fixe with an optional mid course add on, with choices including Japanese hamachi crudo with compressed cucumber, mint, green apple and dashi; and pan-seared sablefish with carrot, artichoke, fennel and cauliflower "en escabeche." The elegant and modern ambiance of the restaurant, adorned with stylish decor and a welcoming bar, creates a sophisticated backdrop for an exceptional dining experience.
Image credits:Copine
Mita's
Cincinnati, Ohio
Opened: 2015
Cuisine Type: Spanish and Latin American
Owner(s): Chef Jose Salazar
James Beard nominated chef Jose Salazar named this restaurant after his Colombian grandmother, his "Mita." The 130-seat restaurant opened its doors in late 2015 in downtown Cincinnati, and has quickly made its mark as a beloved dining destination. Mita's eclectic, farm-inspired menu focuses on both the traditional and modern foods and beverages of Spain and Latin America, with tapas, ceviches, cured hams, cheeses, and large plates, while the wine program emphasizes Spain and the Old World.
Image credits:Mita's
Pizza Serta
Washington, D.C.
Opened: January 2023
Cuisine: Pizza
Owner: Chris Morgan and Ben Farahani
Having opened multiple restaurants from a range of cuisines and being awarded a Michelin Star, Chef Chris Morgan decided to open a pizzeria earlier this year. Morgan's pizza combines the nostalgia of pan-style pizza from his childhood with a more elevated and conscious style of pizza by using grains grown at a local mill.
Image credits:Pizza Serta
Pastis
New York City, New York and Miami, Florida
Opened: 1999
Cuisine: French
Owner: Keith McNally, Stephen Starr, STARR Restaurant Group
Pastis, the famous Paris bistro in New York City that was frequented by celebrities in the early 2000s was revitalized by the STARR in 2019 after being closed for five years. They are now expanding the brand with a new location in Miami, adding an outdoor garden and courtyard as well as new menu items.
Image credits:Pastis
Red Rabbit
Minneapolis
Opened: 2016
Cuisine Type: Italian
Owner(s): Luke Shimp
Red Rabbit has continually evolved since its launch in 2016, expanding to a second location, refining its bar offerings, and adapting during the pandemic to introduce meal and cocktail kits. With a culinary style centered around uncomplicated, authentic Italian dishes paired with craft cocktails and wines, Red Rabbit provides a casual yet satisfying dining experience. Owner Luke Shrimp is also behind Red Cow, a local chain with six locations in the Twin Cities.
Image credits:Red Rabbit
Makoto
Miami Beach, Florida
Opened: 2011
Cuisine Type: Modern Japanese
Owner(s): Stephen Starr (STARR Restaurants) and Chef Makoto Okuwa
Located in South Florida's glitzy Bal Harbour Shops, Makoto is one of the region's most celebrated Japanese restaurants. Chef Makoto Okuwa, a master of Edomae-style sushi, opened the restaurant in 2011 in partnership with Stephen Starr. The menu is constantly evolving as the famed chef searched for new ways to add modern takes to traditional dishes.
Image credits:Makoto
Gekkō
Miami, Florida
Opened: 2022
Cuisine Type: Modern Japanese
Owner(s): David Grutman (Groot Hospitality) and Bad Bunny
Gekkõ, a collaborative venture between Bad Bunny and David Grutman's Groot Hospitality, is nestled in Miami's vibrant Brickell neighborhood. Fusing the sociable and beloved cuisine of a steakhouse with the precision and modernity of Japanese cooking, it offers a diverse menu of chophouse staples as well as inventive sushi offerings and creative cocktails.
Image credits:Michael Stavaridis
Komodo
Miami, Florida
Opened: 2015
Cuisine Type: Southeast Asian
Owner(s): David Grutman (Groot Hospitality)
The first restaurant to launch under David Grutman's Groot Hospitality, Komodo is known for its "clubstaurant" atmosphere and inviting indoor-outdoor flow, which carries guests from a sleek interior to a lush terrace. The menu offers global takes on Southeast Asian dishes, with a full sushi bar and bespoke custom cocktails providing a unique complement to the dining experience.
Image credits:Komodo
Rosa's Pizzeria
Prescott, Arizona
Opened: 2011
Cuisine Type: Italian
Owner(s): Skyler Reeves (Vivili Hospitality Group)
Rosa's Pizzeria was founded in 2011 when Domenic and Rosa Anzelmo brought their recipes to the small town of Prescott, Arizona. The pizzeria pays homage to their deep Mediterranean roots, offering authentic, homemade Sicilian and Southern-Italian recipes along with traditional New York-style pizza. Vivili Hospitality Group took ownership in 2018 and recently expanded to a second location in Prescott Valley, Arizona.
Image credits:Rosa's Pizzeria
The Barley Hound
Prescott, Arizona
Opened: 2015
Cuisine Type: American Gastropub
Owner(s): Skyler Reeves (Vivili Hospitality Group)
The Barley Hound kickstarted Vivili Hospitality Group's portfolio in 2014. The acclaimed American gastropub has evolved by introducing upscale dishes while maintaining its casual menu and comfort food roots. From truffle duck fat fries to the iconic 'Merica Burger and short rib grilled cheese, it caters to both adventurous eaters and those seeking familiar favorites.
Image credits:The Barley Hound
The Graceful Ordinary
St. Charles, Illinois
Opened: 2021
Cuisine Type: Upscale American
Owner: Chef Chris Curren, Megan Curren
Serving up elegant food to a sold out crowd every night since opening in November 2021, this gorgeous riverfront concept marks the turning of fine-dining tides in suburbia. The Graceful Ordinary was created by Chicago industry restaurant veterans and husband-wife duo, Megan and Chris Curren. Chris utilizes his extensive culinary expertise and classic fine-dining techniques to present a menu of elevated, yet approachable rustic refined tavern fare focused around the restaurant's wood-burning hearth, like Octopus Carpaccio with lemon puree, chili oil, and pickled mustard seed; and Short Rib Caramelle, featuring short rib stuffed beet pasta, braising jus, pistachio pesto, crispy artichoke.
Image credits:Matt Reeves
Sons & Daughters
San Francisco, California
Opened: 2010
Cuisine Type: New Nordic
Owner: Teague Moriarty, Matt McNamara
The Michelin-starred restaurant showcases Northern California seasonal ingredients in its ever-changing tasting menu, which is inspired by new Nordic cuisine and rooted in French techniques. Founded by Chef Teague Moriarty and wine director Matt McNamara, this culinary gem features meticulously crafted dishes that seamlessly blend flavors, textures, and artistic presentations, with a focus on sustainable and organic ingredients. Guests can expect an immersive dining experience with an intimate ambiance, which is adorned with contemporary decor, lush greenery, and warm lighting.
Image credits:Sons & Daughters
The Mexicano
Scottsdale, Arizona
Opened: 2021
Cuisine Type: Mexican
Owner(s): Joey Maggiore
The Mexicano gained national recognition for its modern Mexican cuisine and make-your-own margarita bar with over 30 craft toppings. Guests can pick the salt rim, tequila, margarita style options like blended or over the rocks, and toppings such as cotton candy, Mexican candy, boba, Sour Patch Kids, edible flowers, fresh fruit like watermelon, mango, and guava. With a lively vibe and interactive elements such as a revolving tequila cart, The Mexicano has become a popular locale as well as one diners travel for. The restaurant, which opened at the end of 2021 and quickly attracted lines and large groups, expanded to accommodate demand through outdoor and indoor event spaces, and a dedicated events team. Catering launched, too, including a taco bar and takeout 3-foot quesadilla boxes. The menu shines with dishes like sizzling fajitas on hot lava rocks and a Ferris wheel presentation of guacamole and salsa.
Image credits:The Mexicano
Root & Bone
South Miami
Opened: 2018
Cuisine Type: Southern-inspired comfort
Owner(s): Chefs Janine Booth and Jeff McInnis
Root & Bone, a South Miami restaurant founded by chefs Jeff McInnis and Janine Booth, offers comforting dishes inspired by the South. The menu features Grandma Daisy's Angel Biscuits, Tableside Hot Chicken, BBQ Bruleed Spare Ribs, and other creations like Wagyu Mac Carpaccio and Crab & Zucchini Fritters. The restaurant also introduced a four-course Chef's Tasting Menu, showcasing favorites such as Wagyu Carpaccio, Local Florida Flounder, and Buttermilk Panna Cotta, while maintaining its Southern-inspired identity. Booth and McInnis, both "Top Chef" competitors, opened the first Root & Bone 2013 in New York City before expanding the brand to Puerto Rico. Then, they set their sights on Miami, where they had each set down culinary roots in the past.
Image credits:Root & Bone
Glass & Vine
Miami
Opened: 2016
Cuisine Type: Modern American
Owner(s): Giorgio Rapicavoli, Grove Bay Hospitality Group
Known as one of Miami's top outdoor dining spots, Glass & Vine offers a diverse menu of classic dishes where somebody can "lose yourself in an intimate secret garden by the sea."Beyond being a dining spot, as noted, Glass & Vine has transformed into a popular destination that spills into one of Coconut Grover's famed parks. It hosts events like an annual Easter Egg Hunt and live music from Wednesday to Saturday. Owner Grove Bay Hospitality also directs Root & Bone and seven other concepts.
Image credits:Glass & Vine
Duck Sel
Chicago
Opened: 2021
Cuisine Type: Contemporary American
Owner(s): Donald Young
Duck Sel, launched by Michelin-starred chef/owner Donald Young (Les Nomades, Temporis, Woodwind, Venteux), offers an immersive experience spotlighting his talent for preparing dry-aged duck. Chef Young, one of the industry's youngest Michelin-starred chefs (he earned one at 28 years old while helming the kitchen at Temporis), rose to acclaim at some of Chicagoland's top French restaurants before embarking on his debut solo venture. Formerly known as Salted Duck, Duck Sel showcases his culinary curiosity through multi-course menus curated for exclusive pop-up events in mystery locations, private dinners, passed bites at swanky cocktail affairs, and personalized cooking classes. From format to menu, Duck Sel's possibilities weave through its unpretentious, yet finely tailored approach. Chef Young's tasting menu includes 15 courses of contemporary American cuisine, featuring seasonal ingredients and intriguing preservation and dry-aging technique.
Image credits:Duck Sel
Ruse
St. Michaels, Maryland
Opened: 2021
Cuisine Type: Seasonal American
Owner(s): The Erkiletian family
Ruse at The Wildset Hotel has become a sought-after destination. Customers often tell staff they check into the hotel just to come back to St. Michael's and dine at Ruse. The menu reflects local and seasonal ingredients sourced from small farms and fishermen. That's been a constant process for the team. Although the restaurant works to source local as much as possible, the goal is always quality. Through experience and research, Ruse has been able to source items found at some of the nation's top restaurants. In recent months, it's worked with a new seafood purveyor who personally goes to boats and buys seafood directly from fishermen. He then delivers it to Ruse, which puts the restaurant in the same circle as some Michelin spots from Washington, D.C. The menu showcases a variety of techniques and influences, summarized as "unique," where "one dish could have influences from Spain, Japan, and Israel. The cuisine here is not bound by borders and it shows."
Image credits:Ruse
MI VIDA
Washington, D.C.
Opened: 2018
Cuisine Type: Mexican
Owner(s): Chef Roberto Santibañez, KNEAD Hospitality + Design
The MI VIDA brand has scaled to three D.C. locations that occupy massive spaces of roughly 10,000 square feet. The design is big, too, with looming art installations ready to transport guests "to another world." Santibañez is a Mexico City native with more than three decades of experience. He style focuses on authentic, approachable cuisine rooted in history. MI VIDA began in The Wharf before expanding in 2022 to 14th Street and is now gearing up for Penn Quarter. "Mi Vida" translates to "My Life." In Mexico, however, "Mi Vida" is also a term of endearment bestowed on close family and friends to signify love, care, and importance.
Image credits:MI VIDA
Blue Canyon Kitchen & Tavern
Twinsburg, Ohio
Opened: 2004
Cuisine Type: American
Owner(s): Val Voelker
Blue Canyon's "vacation dining atmosphere" is built on connection. The lodge setting welcomes all, with a menu that features twists on classic homemade dishes, like Pretzel Crusted Trout and Wild Boar Meatloaf. Sitting atop a sandstone bluff that overlooks views of wooded rolling landscapes of Northeast Ohio, Blue Canyon presents a rustic, cozy atmosphere. The restaurant's design was inspired by the grand lodges located throughout the National Parks. Diners are surrounded by hand-hewn cedar logs, soaring cathedral ceilings, and multiple fieldstone fireplaces. In recent years, Blue Canyon has gone from standard quarterly menus to weekly and monthly specials, including curbside pickup/date night featured, themed brunches, and an extended happy hour.
Image credits:Blue Canyon Kitchen & Tavern
Merle's Whiskey Kitchen
Louisville, Kentucky
Opened: 2012
Cuisine Type: Southern-Americana
Owner(s): Tony Palombino
The Whiskey row spot is a tribute to all things bourbon and navigates the many comforts of the food genre, from its award-winning fried chicken and famous green chili pork taco. It was recently recognized as a top 15 best bourbon in the U.S. by TastingTable. Certified by the Stave & Thief Society (showcasing its bourbon prowess), the "whiskey hall" started as a small bourbon bar housed in a historical building. It has since grown along with the burgeoning bourbon trade. With a recent renovation of the next-door property, Merle's also now boasts a second bar, live music stage, and, of course, one the largest collections of bourbon in the country. Food-wise, everything from the house roasted meats, sauces, and curated beverages, including the near-mythical green chili jam, "is the very best of Southern-Americana, served up in timeless fashion."
Image credits:Merle's Whiskey Kitchen
Guard and Grace
Denver, Colorado, and Houston, Texas
Opened: 2014
Cuisine Type: Contemporary American Steakhouse
Owner(s): Chef Troy Guard
Named after Chef Troy Guard's daughter, Guard and Grace focuses on three things: exceptional cuisine, unique dining experiences, and impeccable service. Now featuring two locations in Denver and Houston, this bold steakhouse is set on delivering tradition with a twist: classical dishes with a hint of innovative Pan-Asian and Hawaiian flavor.
Image credits:Guard and Grace
Yellow Pony Pub
Ocala, Florida
Opened: 2021
Cuisine Type: Global Pub Fare
Owner(s): World Equestrian Center
Located in the heart of Ocala, the Yellow Pony Pub has taken off since its initial opening in 2021 at the World Equestrian Center. Upbeat and lively, this gastropub features signature cocktails and a wide array of rare bourbons and whiskeys. From its globally inspired menu to uniquely equestrian-themed adornments, it has become a fan favorite.
Image credits:Yellow Pony Pub
Stirrups
Ocala, Florida
Opened: 2021
Cuisine Type: Fine Dining
Owner(s): World Equestrian Center
Stirrups has taken fine dining to new heights with prime steaks, sustainable Florida seafood, and southern-inspired specialties. This restaurant boasts a 1,500-bottle selection of vintage and rare wines. Also, guests can choose a meal and show as they sit on a terrace overlooking world-class Olympic equestrian events.
Image credits:Stirrups
dLeña
Washington, D.C.
Opened: 2021
Cuisine Type: Latin
Owner(s): Chef Richard Sandoval
Contemporary Latin cuisine is the highlight of dLeña's innovative menu, which pays homage to traditional ingredients that are inspired by the elements of earth, water, air, and fire. Acclaimed Chef Richard Sandoval helms this restaurant, which was featured in the 2022 edition of the MICHELIN Guide DC and is also a Best of Modern Luxury DC Award Winner 2022.
Image credits:dLeña
Villa Azur
Dallas, Miami, and Las Vegas
Opened: 2012
Cuisine Type: French-Mediterranean
Owner(s): Jean-Philippe Bernard, Paul Breuza, Michael Martin
Villa Azur is known for its "je ne sais quoi" as well as its electric atmosphere. The restaurant hosts weekly dinner parties and marriages modern French cuisine, mixology, and unique musical talent. The Miami Beach location welcomes notable figures such as Halle Berry and Leonardo DiCaprio but fosters a fresh and flirty vibe for all.
Image credits:Villa Azur
The Americano
Scottsdale, Arizona
Opened: February 2020
Cuisine Type: Italian Steakhouse
Owner(s): Chef Scott Conant & Creation Hospitality
Elegant and chic yet approachable, The Americano is for those who enjoy playful cocktail menus and heartfelt service. At its core, the menu carefully curated by award-winning Chef Scott Conant features fine-aged steaks, house-made pasta, and Mediterranean seafood. The venue features memorable artwork displays, an open kitchen, and a wood-fired grill.
Image credits:The Americano
Mora Italian
Phoenix, Arizona
Opened: 2017
Cuisine Type: Italian
Owner(s): Chef Scott Conant & Creation Hospitality
Inspired by the neighborhood eateries found in Italy, Mora can be described as "easy-to-love Italian fare with firepower." Celebrity Chef Scott Conant facilitates a marriage between the traditional and modern with reimagined classics and hearty wine lists. Stylish, yet relaxed, Mora brings something to the table that all can enjoy.
Image credits:Mora Italian
Ray's at Killer Creek
Alpharetta, Georgia
Opened: 1998
Cuisine Type: Steakhouse
Owner(s): Ray Schoenbaum
Over the course of two decades Ray's at Killer Creek has developed a reputation for fresh seafood, prime steaks, and brunch buffets. To add to its atmosphere, Chef Thomas Mikesell hosts weekly pop-up dinners every other Thursday and bottomless mimosas every Sunday. The restaurant has top accolades in the 2022 Awards for Wine Spectator, TripAdvisor, and OpenTable.
Image credits:Ray's at Killer Creek
Yeppa&co
Atlanta, Georgia
Opened: 2023
Cuisine Type: Italian
Owner(s): Pietro Gianni, Stephen Peterson
Yeppa&co, a new Italian concept in Atlanta's Buckhead Village, emphasizes interpersonal connection and offers a bar-centric experience. The restaurant serves lunch and dinner, with a separate interactive bar called Dryver Bar dedicated to Formula One racing fans. The name "Yeppa" represents a philosophy of living passionately and simplifying life, and the brand pursues that by integrating sustainability practices. The menu showcases regional Italian dishes from Emilia-Romagna, including ingredients like ragù alla Bolognese and Parmigiano-Reggiano.
Image credits:Yeppa&co
The Woodall
Atlanta, Georgia
Opened: 2022
Cuisine Type: New American
Owner(s): John C. Metz
John C. Metz Jr., CEO and co-founder of Sterling Hospitality, features Karl Gorline as the chef de cuisine at the Woodall. Gorline brings two decades of experience and a passion for approachable yet innovative food. Emphasizing local and sustainable sourcing, he creates dishes like W. Hummus, Tuna Tartare, Smoked Chicken Meatballs, Butternut Squash Pappardelle, Cacio e Pepe, and Seared Scallops.
Image credits:The Woodall
Hearth and Hill
Park City, Utah
Opened: 2019
Cuisine Type: New American
Owner(s): Brooks Kirchheimer
Hearth and Hill describes itself as a neighborhood gathering spot with a focus on high-quality food and hospitality. Its seasonal menu showcases local ingredients from Utah, and it continuously strives to surprise and delight guests with its cuisine, wine selection, craft cocktails, and desserts. The brand takes pride in responsibly sourcing ingredients and offers a diverse menu influenced by American, Asian, Mexican, and European flavors.
Image credits:Hearth and Hill
Avra Miami
Sunny Isles Beach, Florida
Opened: 2022
Cuisine Type: Greek Mediterranean
Owners(s): Nick Tsoulos, Nick Pashalis, and Marc Packer
Avra Miami is known for its architecture and fresh food, including daily imported fish from Greece and generations-old recipes. It has gained a strong following since its opening in November 2022 and has plans to expand to Brickell, Florida, in 2025. The menu features Greek Mediterranean cuisine with a focus on fresh seafood, where guests can select their meal from an ice display.
Image credits:Avra Miami
Perini Ranch Steakhouse
Buffalo Gap, Texas
Opened: 1983
Cuisine Type: American
Owners(s): Tom Perini
Originally a cattle operation, Perini Ranch Steakhouse was taken over by Tom Perini when he was 21 years old. Since then, the family-owned restaurant has gained nationwide recognition, especially after catering the White House Congressional Picnic. The James Beard Award-winning steakhouse offers a range of Texan favorites, like mesquite-grilled Certified Angus Beef steaks, bacon-wrapped jalapeños, and Cajun-seasoned grilled catfish.
Image credits:Perini Ranch Steakhouse
Mayami
Miami, Florida
Opened: 2020
Cuisine Type: Mexican Fusion
Owner(s): Philippe Kalifa
Mayami, located in Miami's Wynwood neighborhood, transports guests to ancient Mayan civilization. With a 10,000-square-foot indoor and outdoor space, the restaurant and lounge serves elevated cuisine and crafted cocktails. The atmosphere includes aerialists and fire dancers, creating a late-night party scene. Mayami has also incorporated a menu that is 60 percent veganizable to cater to sustainability and vegan preferences.
Image credits:Mayami
Livingston Restaurant + Bar
Atlanta, Georgia
Opened: 2009
Cuisine Type: Modern European Southern
Owner(s): Sotherly Hotels
After a three-year closure, Livingston Restaurant + Bar in Atlanta's Georgian Terrace hotel reopened with a new menu by executive chef Steven Meese. With a background of training under well-known chefs and hosting a popular PBS series, Meese combines contemporary American fare with his creative approach to European cuisine. Highlights include dishes like tuna crudo, braised short ribs, and scallops with risotto.
Image credits:Livingston Restaurant + Bar
Gunshow
Atlanta, Georgia
Opened: 2013
Cuisine Type: New American
Owner(s): Kevin Gillespie
Kevin Gillespie, owner and executive chef of Gunshow, takes an unconventional approach to food and service. With a singular staff and no division between front of house and back of house, each person contributes to the dining experience. Gillespie fosters an environment where creative minds control the direction of the food, recognizing each individual's talents. He sees himself as a coach and mentor, aiming to redefine American cuisine and promote diversity.
Image credits:Gunshow
Oregon Grille
Hunt Valley, Maryland
Opened: 1997
Cuisine: American Steakhouse
Owner: Alex Smith, Eric Smith, Atlas Restaurant Group
The Oregon Grill, located in a 200-year-old farmhouse, is a landmark of horse country. In 2021, Atlas Restaurant Group took ownership of the restaurant. Now, executive chef Amanda Brennan, who has grown with the restaurant ever since it opened more than 25 years ago, is running a $10 million restaurant.
Image credits:Oregon Grille
The Innovation of Independents
Though the restaurant industry is ever-evolving, the space has seen especially significant changes in recent years, with new trends and challenges emerging on a regular basis. Despite these shifts, independent full-service restaurants continue to thrive and provide exceptional dining experiences to customers across the country. From coast to coast and spanning various cuisine types, these 50 dining destinations showcase innovative menus, exceptional service, and inviting atmospheres that will impress both seasoned foodies and curious diners alike.
Unencumbered by corporate chains, these full-service restaurants embody the true essence of culinary artistry, innovation, and personalized hospitality. From intimate family-owned gems to chef-driven culinary destinations, FSR's Top 50 Independent Restaurants list showcases the diverse flavors and talents found across the U.S. dining landscape that are paving an innovative path into the future of foodservice, while still honoring past culinary traditions.
(Pictured is Jeremy Ford of Stubborn Seed)
Image credits:Grove Bay Hospitality Group
Stubborn Seed
Miami Beach, Florida
Opened: 2017
Cuisine Type: Seasonal, Contemporary American
Owner(s): Chef Jeremy Ford, Ignacio Garcia-Menocal, Francesco Balli (Grove Bay Hospitality Group)
Jeremy Ford was just 14 years old when he felt a calling to the culinary world. His first hero was Emeril Lagasse, whose show "Emeril Live" on the Food Network sparked Ford's imagination. "He was funny, he was creative, his food's delicious, and I got the bug from watching that show," Ford says. That bug soon transformed into an experimentation beast, and Ford began "doing weird sh**—I was grilling strawberries on my dad's grill, just weird stuff that would pop into my head, and some of it tasted horrible, and luckily I stuck with it."
Little did Ford and his parents know he would one day win the 13th season of Bravo's popular cooking competition show, "Top Chef," in 2015, and earn a Michelin Star rating at his restaurant, Stubborn Seed. But before all that, Ford's journey to becoming a chef started with a harrowing search for his maternal grandparents, since his mother was adopted at a very young age, which brought Ford and his family from Jacksonville, Florida, to the West Coast in Carmel, California.
"We went on this crazy search to find her real mother, and we ended up finding her," Ford recalls. "She was Italian, [and] barely spoke English. And our first meeting with her, she invited us to her home. It was a very emotional day … She prepared a large lunch for us with all of these garden delights out of her backyard, and we connected over food."
Image credits:Grove Bay Hospitality Group
Arnaud's Restaurant
New Orleans
Opened: 1918
Cuisine Type: Creole
Owner: Archie Casbarian and Katy Casbarian
Celebrating 105 years of service this year, Arnaud's Restaurant serves authentic Creole cuisine in the heart of New Orleans' French Quarter, and is best known for its souffle potatoes with bearnaise sauce; Shrimp Arnaud, featuring the restaurant's famous Creole Remoulade sauce, flambe served tableside; and Oysters Bienville, created at the restaurant in the 1920s. The family-run restaurant has become a dining institution, well-known for offering a quintessential New Orleans' experience through exemplary food, hospitality and service. On any given night, you can walk into the Main Dining Room to see a tuxedoed waiter flambéing bananas foster or café brûlot, a show for the senses with the sky-high flames and the smells of the caramelizing bananas and seared orange peels filling the room.
Image credits:Arnaud's Restaurant
Bauhaus Biergarten
Springdale, Arkansas
Opened: 2022
Cuisine Type: German
Owner: Chef Jennifer Hill Booker
The German-style Biergarten, located in Northwest Arkansas, is known for its unique imported German, Austrian, and Belgian beers, plus European wines. Beverages are thoughtfully paired with traditional favorites like Bratwurst, Knockwurst and Currywurst sausages, and of course, Giant Bavarian Pretzels with Dunkel Beer Cheese and housemade mustard. Since opening in October 2022, the Biergarten has benefited from added communal tables, new landscaping, an outdoor yoga area, bike racks, and a family-friendly atmosphere.
Image credits:Bauhaus Biergarten
Haywire
Uptown Dallas and Plano, Texas
Opened: 2017
Cuisine Type: Refined Texan
Owner: Jack Gibbons, Front Burner Society
The Texas-inspired eatery has created an irresistible combination of rustic and refined, making it stand out from the crowd. The emphasis on locally sourced ingredients is evident in their ranch-to-fork menu from Chef Skyler Gauthier, which showcases the best dishes from every corner of the state. Haywire's menu features a range of classic Texas dishes, such as the Chicken Fried Steak and Grilled Chipotle Meatloaf, as well as more innovative and upscale dishes like Pork Belly "Burnt Ends," which showcase the kitchen's expertise in slow-cooked meats, while the Texas Farm Raised Redfish demonstrates Haywire's ability to elevate familiar dishes to new heights.
Image credits:Haywire
Ida Claire
Dallas, Addison, Jacksonville, and San Antonio, Texas
Opened: 2015
Cuisine Type: Southern Comfort
Owner: Jack Gibbons, Front Burner Society
With mismatched dishes, birdcages hanging from the ceiling, and eclectic furnishings, the atmosphere at Ida Claire is funky yet approachable, creating an upscale vibe that makes guests feel right at home. A backyard garden and Airstream trailer also provide a picturesque setting for intimate private dinners and events. The menu at Ida Claire is a blend of classic Southern dishes and unexpected, flavorful twists. From pimento cheese dip and shrimp and grits to Creole Gumbo and Ida's Fried Chicken, every dish is a journey for the taste buds.
Image credits:Ida Claire
Tujague's
New Orleans
Opened: 1856
Cuisine Type: Cajun-Creole
Owner: Mark Latter
Established in 1856, Tujague's is considered a historic culinary institution and holds the title of New Orleans' second-oldest restaurant, and the third oldest continuously operating restaurant in the U.S. This beloved dining establishment is currently owned by Mark Latter, who acquired it in 2013, ensuring its legacy lives on—though Tujague's moved locations after 163 years to a new spot in the French Quarter. Touting itself as "the birthplace of brunch and the grasshopper cocktail," Tujague's offers a quintessential New Orleans dining experience, with its classic Creole and Cajun cuisine, along with creative southern plates with Acadian influences, like Grilled Duroc Pork Chop with sweet potato and carrot puree, braised greens, and pickled mustard seeds, and a Pan Roasted Maple Leaf Duck Breast with foie gras mashed potatoes, wilted spinach, and orange rosemary demi-glace. The restaurant's timeless charm, featuring elegant woodwork, vintage mirrors, and a bustling bar, transports guests to another era.
Image credits:Tujague's
Jack Rose
New Orleans
Opened: 2018
Cuisine Type: Seasonal Creole
Owner: Chef Brian Landry
Jack Rose brings an eclectic and exciting dining experience to New Orleans' Garden District. Diners at Jack Rose can find an array of Italian Creole, French and Spanish dishes with Chef Brian Landry's unique twists, including a new "pasta" section featuring house-made pastas like Fettuccine Nero with scallops, wild mushrooms, vermouth cream; and Fusilli with royal red shrimp, oven dried tomatoes, and basil oil.
Image credits:Neil Alexander
Young Joni
Minneapolis
Opened: 2016
Cuisine Type: American-Korean Fusion
Owner: Chef Ann Kim, Conrad Leifur
Helmed by James Beard Award-winning chef Ann Kim, Young Joni is known for its globally-inspired dishes and inventive pizzas, like the Korean BBQ pizza, which features beef short rib, mozzarella, scallion, arugula, sesame, and a soy-chili vinaigrette. With a cozy yet modern atmosphere adorned with eclectic decor, Young Joni features an open kitchen and a wood-fired oven as its centerpiece. Diners can also enter a speakeasy back bar behind the restaurant in the alley—when the red light is on, the bar is open. The restaurant's cocktail menu is a highlight, with creative concoctions named after TV episodes from shows like The Office, Stranger Things, and Breaking Bad. For example, "Cheers: S5 E10 'Everyone Imitates Art'" features brandy, brown ale, east india sherry, cinnamon, and quail egg.
Image credits:Young Joni
Spoon and Stable
Minneapolis
Opened: 2014
Cuisine Type: French inspired
Owner: Chef Gavin Kaysen
Since its opening, Spoon and Stable has garnered widespread acclaim for its exceptional cuisine and elegant atmosphere. James Beard Award-winning chef Gavin Kaysen crafts a menu that seamlessly blends classic French techniques with contemporary American flavors, utilizing locally sourced ingredients. The open kitchen allows diners to witness the culinary magic, while the restored historic space—which was formerly a horse stable—features exposed brick walls, high ceilings, a striking bar area, and stylish decor.
Image credits:Erin Kincheloe
Lita
Aberdeen Township, New Jersey
Opened: 2023
Cuisine Type: Modern Portuguese
Owner: Chef David Viana and Neilly Robinson
Helmed by Top Chef alum David Viana, Lita opened earlier this year in Aberdeen Township, New Jersey. The Iberian restaurant offers a unique and unforgettable dining experience, with a focus on bringing new life to Portuguese cuisine and adapting Chef Viana's family recipes with modern techniques and flairs. Guests start with "Essenciales," a shareable collection of lighter bites and tapas, before delving into a bevy of charred vegetables, rich stews, fresh seafood, and meat dishes like piri piri chicken, bitoque, and crispy paellas.
Image credits:Emily Schindler