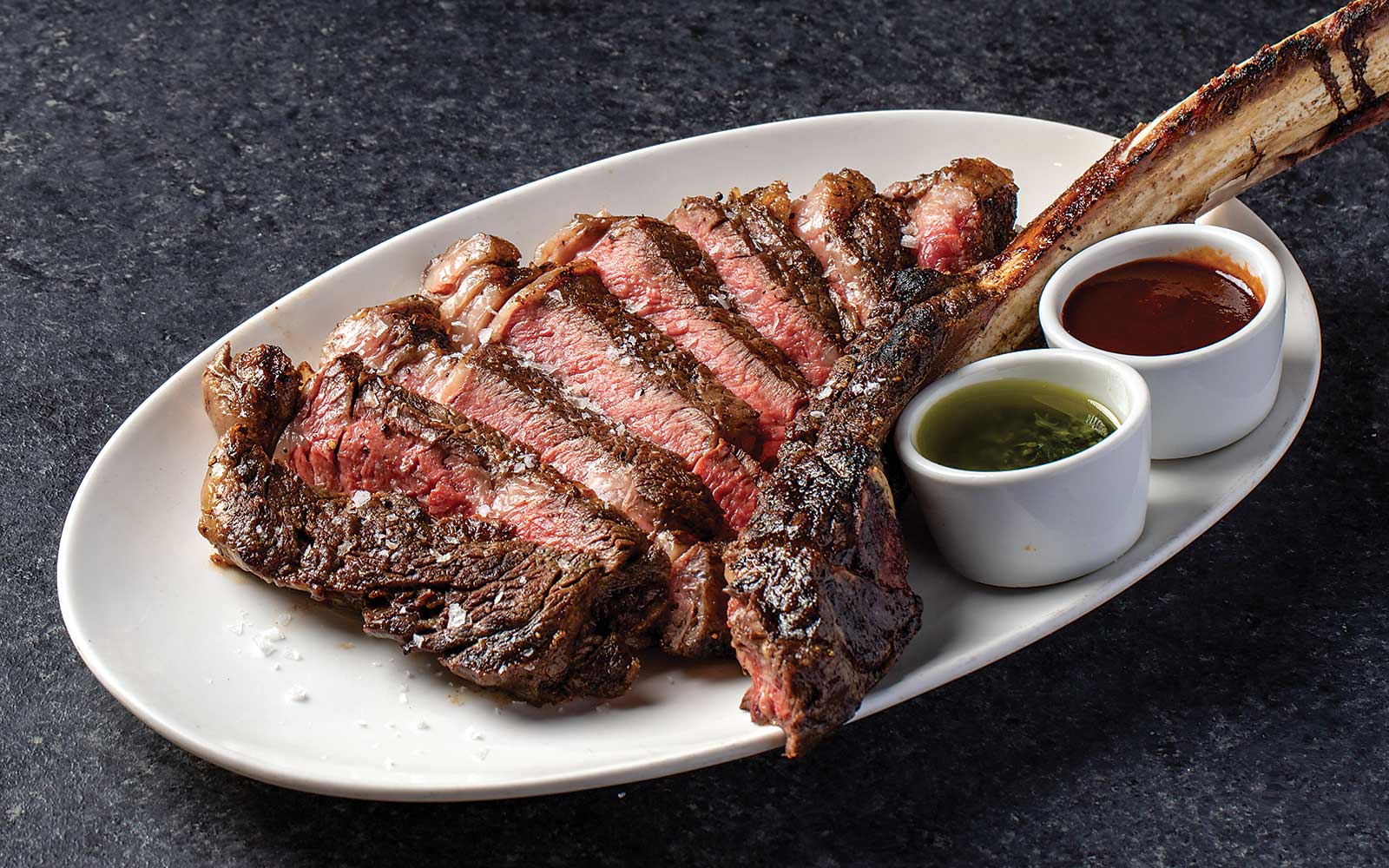 25. Denny's
Average sales per unit (thousands): $1,675
Unit count: 1,487
Total change in units from 2020: –17
U.S. systemwide sales (millions): 2,462
Image credits:Denny's
26. Village Inn
Average sales per unit (thousands): $1,659
Unit count: 129
Total change in units from 2020: –6
U.S. systemwide sales (millions): $214
Image credits:Wikimedia Commons/Michael Rivera
After a complicated and arduous 2020 for full-service chains, FSR took time to reassess the segment and determine how publicly traded chains stacked up in their 2021 recovery year.
One of the most important measurements is average-unit volume (AUV), which shows how much chains are earning per store measured on a mature base.
SEE THE FULL FSR 50 CHART, COMPLETE WITH SALES, AUV, UNIT COUNT
Publicly Traded Chains Ranked by U.S. Sales
Supplemental Data: Privately Held Power Players
The following list ranks the top 26 public restaurants in terms of AUV, based on 2021 figures.
Methodology: ​​The sales and unit count data for the FSR 50 (found in the above linked chart) was collected and calculated using public filings with the Security and Exchange Commission. All brands were contacted to confirm numbers, although not all replied. The data reflects U.S. locations only and encompasses both corporate-owned and franchised units. All chain in this list are publicly held.
Image credits:The Cheesecake Factory
1. STK Steakhouse
Average sales per unit (thousands): $14,800
Unit count: 14
Total change in units from 2020: 1
U.S. systemwide sales (millions): $195
Image credits:ONE Group
2. The Cheesecake Factory
Average sales per unit (thousands): $11,084
Unit count: 207
Total change in units from 2020: 2
U.S. systemwide sales (millions): $2,293
Image credits:Cheesecake Factory
3. North Italia
Average sales per unit (thousands): $6,612
Unit count: 29
Total change in units from 2020: 6
U.S. systemwide sales (millions): $172 million
Image credits:David Fox
4. Texas Roadhouse
Average sales per unit (thousands): $6,364
Unit count: 667
Total change in units from 2020: 33
U.S. systemwide sales (millions): $3,439
Image credits:Texas Roadhouse
5. Fleming's
Average sales per unit (thousands): $5,208
Unit count: 64
Total change in units from 2020: 1
U.S. systemwide sales (millions): $333
Image credits:Fleming's Prime Steakhouse & Wine Bar
6. BJ's Restaurants
Average sales per unit (thousands): $5,148
Unit count: 212
Total change in units from 2020: 3
U.S. systemwide sales (millions): $1,087
Image credits:BJ's Restaurant & Brewhouse
7. Maggiano's
Average sales per unit (thousands): $5,056
Unit count: 212
Total change in units from 2020: 1
U.S. systemwide sales (millions): $273
Image credits:Maggiano's Little Italy
8. Chuy's
Average sales per unit (thousands): $4,197
Unit count: 96
Total change in units from 2020: 4
U.S. systemwide sales (millions): $397
Image credits:Chuy's
9. Olive Garden
Average sales per unit (thousands): $4,100
Unit count: 875
Total change in units from 2020: 7
U.S. systemwide sales (millions): $3,593
Image credits:Olive Garden
10. Outback Steakhouse
Average sales per unit (thousands): $3,822
Unit count: 694
Total change in units from 2020: –12
U.S. systemwide sales (millions): $2,176
Image credits:Outback Steakhouse
11. LongHorn Steakhouse
Average sales per unit (thousands): $3,400
Unit count: 533
Total change in units from 2020: 11
U.S. systemwide sales (millions): $1,810
Image credits:LongHorn Steakhouse
12. Ruth's Chris Steak House
Average sales per unit (thousands): $3,371
Unit count: 124
Total change in units from 2020: –1
U.S. systemwide sales (millions): $418
Image credits:Adobe Stock
13. Cracker Barrel
Average sales per unit (thousands): $3,300
Unit count: 664
Total change in units from 2020: 1
U.S. systemwide sales (millions): $2,227
Image credits:Cracker Barrel
14. Carrabba's
Average sales per unit (thousands): $3,283
Unit count: 219
Total change in units from 2020: –1
U.S. systemwide sales (millions): $653
Image credits:Carrabba's
15. Bonefish Grill
Average sales per unit (thousands): $3,036
Unit count: 185
Total change in units from 2020: –2
U.S. systemwide sales (millions): $544
Image credits:Bonefish Grill
16. Dave & Buster's
Average sales per unit (thousands): $3,032
Unit count: 144
Total change in units from 2020: 4
U.S. systemwide sales (millions): $437
Image credits:Dave & Buster's
17. Applebee's
Average sales per unit (thousands): $2,803
Unit count: 1,578
Total change in units from 2020: –22
U.S. systemwide sales (millions): $4,168
Image credits:Applebee's
18. Red Robin
Average sales per unit (thousands): $2,695
Unit count: 519
Total change in units from 2020: –15
U.S. systemwide sales (millions): $1,399
Image credits:Red Robin
19. Famous Dave's
Average sales per unit (thousands): $2,516
Unit count: 121
Total change in units from 2020: –24
U.S. systemwide sales (millions): $304
Image credits:Michel Lubbert
20. Chili's
Average sales per unit (thousands): $2,434
Unit count: 1,235
Total change in units from 2020: 2
U.S. systemwide sales (millions): $3,006
Image credits:Brinker International
21. Bad Daddy's Burger Bar
Average sales per unit (thousands): $2,400
Unit count: 42
Total change in units from 2020: 3
U.S. systemwide sales (millions): $89
Image credits:Bad Daddy's
22. Kura Sushi USA
Average sales per unit (thousands): $2,138
Unit count: 32
Total change in units from 2020: 7
U.S. systemwide sales (millions): $65
Image credits:Emily J. Davis for Kura Sushi
23. IHOP
Average sales per unit (thousands): $1,861
Unit count: 1,621
Total change in units from 2020: 5
U.S. systemwide sales (millions): $3,017
Image credits:Adobe Stock
24. First Watch
Average sales per unit (thousands): $1,786
Unit count: 435
Total change in units from 2020: 26
U.S. systemwide sales (millions): $751
Image credits:First Watch