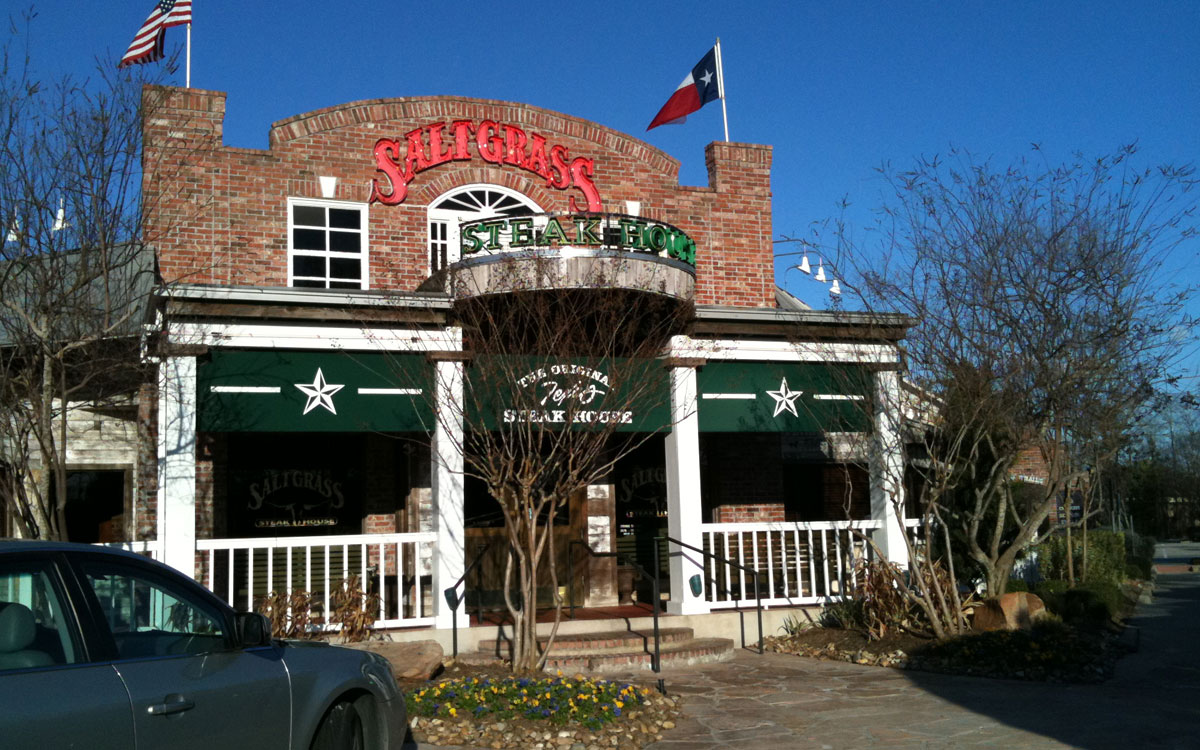 There are nine units of the 40-year old brand, with new stores on the way for Wellesley, Massachusetts, and Las Vegas. This is a steakhouse chain that does things a bit differently, and it all starts with sourcing. Smith & Wollensky partnered with Double R Ranch to provide USDA prime steaks and signature filets to all locations. Consistency is the theory behind this exclusive, single-sourcing partnership. Matt King, the brand's executive chef, said big producers buy beef from multiple feedlots, then process and pack it, which leads to often-inconsistent cuts and unpredictably. Also, this partnership allows Smith & Wollensky to not only improve its sustainability but to provide guests with a story worth telling. "It used to be good enough to say that you served prime beef," King said. "Not anymore. Now people want to know where their food is coming from. And, unless you enter a program like this, you can't say with clarity and give a forthright answer about where the beef comes from." The program has been in place since March and relies on free-range, humane, and socially responsible processes. Double R also owns the feedlots processing facilities, which ensures compassionate and accountable butchery. The results are steaks and filets with the finest, hand-selected levels of marbling on the USDA grading scale.
The proof is in the numbers. The 540-unit chain reported same-store sales growth of 4.5 percent at company-owned units, year-over-year, in the third quarter, and 4.7 percent growth at domestic franchised outlets. That was up from 4 and 3.6 percent, respectively, in the previous quarter. Even more, Texas Roadhouse, back in October, said its fourth quarter was appreciating growth of 5.3 percent in the first month. Those numbers are clearly top-tier for publicly traded casual dining brands right now, a segment where sales at casual and upscale casual restaurants fell 0.9 percent and 0.4 percent, respectively, across the board, in the past quarter. So how is Texas Roadhouse doing it? Really, by just unabashedly being Texas Roadhouse. The company doesn't seem to care much about off-premise innovations or changing its service model. People recognize the brand for its peanut-laden floor and steaks on display, and Texas Roadhouse wants to guard that loyalty, not endanger it. "As we look to 2018, the game plan is really the same," said Kent Taylor, Texas Roadhouse's CEO. "[We are] staying focused on growing sales through our commitment to legendary food and legendary service and maintaining our everyday value."
Darden didn't bring much attention to its menu revamp at LongHorn until this past quarter. CEO Gene Lee then spoke extensively about how the company reduced offerings at its iconic brand by nearly 30 percent over the past couple of years. Financially, this isn't hurting same-store sales at all. The 500-unit chain reported 3.8 percent growth in the quarter versus the prior-year period, marking the 19th consecutive quarter of same-store sales growth. This approach is part of the ethos of Darden—simplified operations leads to better execution. LongHorn has, in this time, increased the size of its steaks and removed complexity in the kitchen. This has also allowed LongHorn to focus on guest experience and service. "As we simplify our operation, we're executing it at a higher level. We need to get the steaks cooked correctly, we need to get the food out faster, and that's what simplification has done for us," Lee said. More menu reduction is likely on the way as well.
Sage Restaurant Group's steakhouse brand has grown to four locations—Portland, Cleveland, Philadelphia, and Denver. One of its keys has been its individuality and commitment to local sourcing. The Denver unit, which opened in August, is housed in a 125-year-old building and features decor and staff uniforms made by The Made Shop, a small design studio with offices in Denver and Los Angeles. Each location features a twist unique to the city but remains centered on its theme: telling a story of a country farmer who marries a cosmopolitan art collector. Each restaurant features an in-house, whole-animal butcher shop and tries to showcase the entire animal throughout the menu. A focal point of the dining room is a communal charcuterie station that offers guests an interactive and engaging space.
The 44-unit brand, founded in 1964, is all about the aging. All cuts are aged at least 21 days and then flame grilled. Average sales at each unit are above $3.6 million. It's also show an ability to work in markets all over the country, with units in Alaska and Hawaii, as well as California, New Mexico, Washington, and Arizona. In April, the chain hired Liz Geavaras as chief marketing officer. Geavaras joined Black Angus Steakhouse from Grill Concepts, Inc., and is spearheading Black Angus' culinary direction on both food and beverage, along with marketing. She'll build off a cult favorite with a tagline that boasts: "Here's to the nights you can't remember and the steaks you won't forget."
The Landry's Inc. concept is growing, having just opened a Metairie, Louisiana, location in December. There are now units in Texas, Colorado, Florida, Louisiana, Missouri, Nevada, and Oklahoma. It's biggest grouping comes in the Lone Star State, where there are units throughout the Houston area, Dallas-Fort Worth, San Antonio, Amarillo, Austin, Baytown, Beaumont, College Station, Corpus Christi, El Paso, Galveston, Kemah, Longview, Lubbock, McAllen, Midland, Odessa, Port Arthur, San Marcos, and Waco. The restaurant served certified Angus Beef steaks, claiming to be the only Certified Angus Beef Brand out there. Each steak is also topped with garlic butter and seasoned with the chain's Saltgrass-7 Steak Spice. Locally it's a cult favorite in many towns, despite being a national chain. The location inside Golden Nugget Lake Charles earned a 2017 Certificate of Excellence from TripAdvisor and the Focus Daily News named the restaurant its Reader's Choice Best Steak House. In 2017, it also earned Best Of honors from Living Magazine, the Galveston Daily News, Mohave Valley Daily News, Laughlin Buzz, Visitlakecharles.org, The Baytown Sun Readers, Laughlin, and News West 9 Best of the Basin. So yes, people are fond of this chain.
Founded by Miami Dolphins football coaching icon Don Shula, this portfolio of brands now covers nearly 30 locations across the country. Founded in 1989, there is now the Shula's Steak House, Shula's Grill 347, 347 Steakbar, Shula's 2, Shula's Bar & Grill, and Shula's Burger. Décor changes with the city and each unit feels special to the location. Shula's Steakhouse, the flagship brand, has received 9 Wine Spectator Excellence Award, and serves only Black Angus beef nationwide. The Shula Cut steaks are hand selected based on a 10 science-based specifications in marbling, maturity, uniformity, flavor, appearance, consistency, and tenderness, and aged for an average of 28 days. Less than 1 percent of all beef sold in America qualifies for The Shula Cut, the brand said.
Few casual dining brands are experiencing positive traffic these days. Outback moved the needle-albeit barely—in the third quarter with 0.1 percent growth. Still, it was the Bloomin' Brands' chain's first traffic increase since 2016. And that was with hurricanes Harvey and Irma in the mix. Same-store sales were up 0.6 percent for Outback in the quarter. They grew 0.3 percent in the previous quarter, meaning comps have risen for three consecutive quarters. Second-quarter traffic was a 130 basis-point sequential improvement from the first. It's small steps, but steps nonetheless. Also, Outback is performing rather well in Brazil, recording comps growth of 4.8 percent in the past quarter. Expect to see to-go business grow. Bloomin' said it believes off-premise dining has the potential to reach 25 percent of total sales.
The famed chef has locations in Las Vegas, Napa, New York, Reno, and Washington, D.C. Chef Palmer balances his restaurant by offering a heavy dosh of fish, pasta, poultry, and seafood—about 50 percent of the menu. Palmer has also taken steps to soften the concept to attract a wider audience. Palmer described it as "female friendly. It's not a He-Man atmosphere with smoky walls, but a very contemporary feeling with great sound." Palmer's initial steakhouse opened at the Four Seasons Hotel in Las Vegas in 1999. All but the DC location are also built into hotels. Palmer said he partners with a hotel for their guest experience. "Someone who comes to stay in a hotel; food and beverage are a big part of their stay," he says.
The third quarter was an up-and-down one for the upscale steak chain. Same-store sales fell 1.6 percent, traffic was down 1.5 percent, and average check decreased 0.1 percent. Much of this can be credited to hurricanes Harvey and Irma, which directly impacted 15 of the company's 70 corporate-run restaurants and resulted in 64 lost operating days. The same-store sales impact was about 150–200 basis points. More recently, Ruth's Hospitality Group completed the purchase of six restaurants in Hawaii from longtime franchise partner, Desert Island Restaurants, for about $35 million in cash. Ruth's remains the largest fine-dining steakhouse in the U.S. as measured by the total number of units, with more than 150 franchised and company stores total. The company's signature "sizzling" presentation remains as recognizable as ever.
Is Logan's Roadhouse making a comeback? In August 2016, the 25-year-old chain filed for bankruptcy as traffic and sales declined. The company's last reported financial results, in October 2015, showed comparable same-store sales declines of 4.3 percent and a traffic drop of 7.4 percent. But during bankruptcy, Logan's Roadhouse closed 34 locations and knocked its $400 million debut to just over $100 million. It also renegotiated leases to save $4 million in annual costs. More have closed since. This past summer, however, Logan's Roadhouse named David Catalano chief operating officer. Catalano clocked time with Al Copeland Restaurant Group, TGI Fridays, Rave Cinemas LLC, and Applebee's franchisee Apple Gold. He was also COO of Joe's Crab Shack and Brick House Tavern + Tap. Catalano is now working alongside CEO Hazem Ouf, who took the reins in January of 2017. Ouf is a turnaround specialist who has 35 years of industry experience. He was most recently CEO of American Blue Ribbon Holdings LLC, where he helped the company navigate through the recession—when it was created. ABR was formed by acquiring casual brands, many of which were sold out of bankruptcy. Ouf also was the CEO of O'Charley's for six years. There are about 200 corporate and franchised Logan Roadhouses in 23 states.
Del Frisco's operates several concepts, including Sullivan's Steakhouse and the opulent Del Frisco's Double Eagle brand. In the third quarter, same-store sales were down 1.1 percent at Double Eagle, with a 0.1 percent increase in customer counts, and a 1.2 percent decrease in average check. This was the best performance of the company's brands, as Sullivan's dropped 7.7 percent in same-store sales, and Del Frisco's Grille saw comps fall 5.4 percent. Like many brands, a lot of the negative numbers were credited to weather issues stemming from hurricane activity, which cost the company 17 lost operating days across three restaurants in the Houston area. By mid-October, new menus and marketing campaigns were launched for the brands. The new menus feature dry-aged, bone-in steaks, and enhanced beverage selections. Double Eagles are planned for Boston, Atlanta, and a California debut. Del Frisco's said it plans to accelerate growth of its "high-returning Double Eagle brand" and recently reached an agreement with a developer to open two flagship stores in California. This would give the chain 10 percent unit growth, among the best in-class. The restaurants generate north of $14 million in average unit volume.
LongHorn's sheer size often makes it the headline steakhouse for Darden (and with good cause). But The Capital Grille, at 57 units, remains one of the company's top performers. Same-store sales were up 3.8 percent in the second quarter at the upscale chain—trailing only Eddie V's and tied with LongHorn in Darden's portfolio. Steaks are dry aged on-site for at least 17 days and then carved by in-house butchers. Some of the locations are architectural stunners, such as the NYC Chrysler store, which was designed by the renowned Philip Johnson and features a seven-story glass and steel pyramid.
Bloomin' Brands announced in August that Beth Scott was stepping into the role of senior vice president of the company and president of Fleming's. She was filling Skip Fox's position, who announced his retirement in July. Scott arrived from Walt Disney Parks & reports and will be tasked with getting the chain back in the green. Its same-store sales declined 1 percent in the third quarter, although this was also in the face of hurricane activity. There are 67 company-owned locations of the brand, known for its Fleming's 100—an award-winning collection of 100 wines by the glass. The picks are curated by the brand's director of wine and selected during a 12-month tasting process. Fleming's even has a WiNEPAD iPad app.
The Palm has history dating back to 1926, and it continues to carry that feel and presence into the future. It is still owned and operated by members of the Bozzi and Ganzi families, who founded the steak house in New York City. There are now 26 locations, ranging from Nashville to Orlando to Philadelphia to Los Angeles to Charlotte, Denver, Chicago, New Jersey, Miami, Houston, Mexico City, Washington, D.C., San Antonio, Las Vegas, Atlanta, and more. The prime aged (minimum of 35 days) steaks and jumbo Nova Scotia lobsters are joined by Italian classics, like Veal Martini. Every location carries on another tradition. Before each store opens, artists paint hundreds of locals on the walls to give the steakhouse a feel unique for its zip code.
Morton's debuted 1978 in Chicago and has expanded to 74 locations. The chain has used the same suppliers since day one and claims to feature the top 2 percent of beef available in the U.S. with its USDA Prime-Aged cuts. The meat is aged 23–28 days and custom-cut per the chain's specifications. Morton's is so confident in its quality that it shares its recipes through two cookbooks—Morton's Steak Bible and Morton's The Cookbook. But the brand believes its old-school service and refined technique will keep the experience an in-house one nobody can recreate.
Mastro's is a lux experience, having recently won the Best of Award of Excellence by Wine Spectator in 2017. Founded in Scottsdale, Arizona, in 1999, the brand has expanded to California, Florida, Illinois, Massachusetts, Nevada, New York, Texas, and Washington, D.C. Specializing in live music, the restaurant doesn't not feel like a chain, and was even named one of the Top 10 Steakhouses in the U.S. by Gayot. Celebs and locals frequent the posh restaurant, owned by Landry's Inc. It is often found in high-end markets, like New York City, Malibu, and Las Vegas. Proper attire is required to dine and the menu is extensive, featuring everything from wet-aged steaks to caviar to escargot.
Wolfgang Zwiener picked up his technique from four decades of working at Peter Luger Steakhouse. The experience at the legendary Brooklyn steakhouse spawned a chain that has grown to nine U.S. locations and four in Asia since debuting in 2004 on New York City's Park Avenue. Another Manhattan restaurant is in the works, as is a Singapore unit. The restaurants serve lunch and dinner seven days a week, including all major holidays. The signature dish is the porterhouse. USDA Prime, dry-aged for 28 days in the restaurant's own aging box, and cooked under a 1,600-degree broiler. Just as it should be.
The J. Alexander's brand saw its average weekly same-store sales increase an impressive 3.7 percent in the third quarter, year-over-year, top $67,300. Even more impressive, the chain's average weekly guest counts boomed 6 percent in the quarter. A Stoney River in Troy, Michigan, began development in the quarter as well. This led the company to increase its outlook of same-store sales from 1–2 percent growth to 2–3 percent of the year. There are locations in Georgia, Illinois, Kentucky, Maryland, Michigan, Missouri, North Carolina, and Tennessee. Stoney River specialized in hand-cut steaks, but also features a diverse menu with seafood, salads, and house specialties.