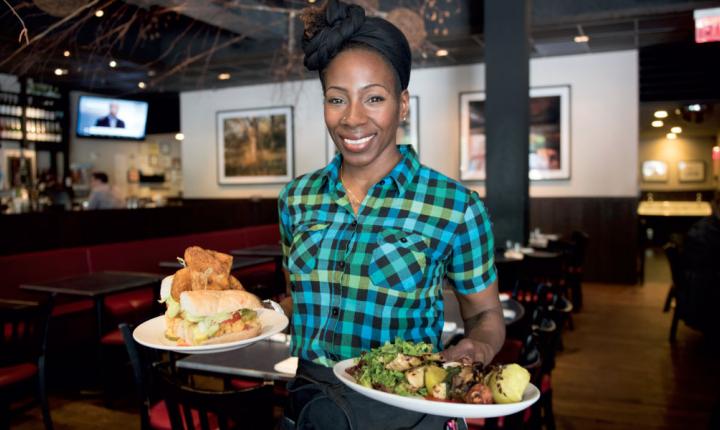 In the restaurant industry, 2019 shaped up as a turbulent year. Many casual-dining chains found themselves on the defensive, facing declining revenue, and were forced to shutter weaker-performing outlets. As in any industry, when certain segments falter, others prosper.
Some large chains and independent restaurant groups, such as Landry's, Union Square Hospitality, and Darden thrived amid the uncertainty. They satisfied customers across multiple occasions—fine dining for special events, mid-priced eateries, and casual, price-conscious options, enabling them to appeal to a wide swath of the U.S. during a time when consumer preference continues to shift rapidly.
It's been a disruptive year for many restaurants because of rising "labor costs, poor market location, and narrow brand diversity," says Thomas Delle Donne, an assistant dean of Culinary Relations and Special Projects at Johnson & Wales University, located in Providence, Rhode Island.
But some of the largest restaurant groups rose above the pack because people are "still spending their money dining out," Delle Donne adds. These chains succeeded because they "managed to create craveable concepts, with innovative menu options, and are managed incredibly well."
Their diversity of restaurant brands enables multiple generations to choose how they want to access the company.
Indeed, millennials tend to gravitate to the idiosyncratic and more personalized restaurants of Cameron Mitchell's group, Southern Proper Hospitality, and Sage Restaurant Group, which tend to be driven by a chef's tastes, more than the more traditional chain eatery.
Another bright spot across many top restaurant groups was a spike in off-premises sales—deliveries through third-party vendors, curbside dining, overall carryout, and mobile ordering.
Here is a look at 10 groups getting it right, and setting the bar for the rest of the industry as we approach a new decade.
Brands: Olive Garden, LongHorn Steakhouse, Yard House, The Capital Grille, Bahama Breeze, Seasons 52, Eddie V's, Cheddar's Scratch Kitchen
Darden owns a series of full-service restaurants that specialize in Italian food, mid-priced steak, Caribbean cuisine, and seafood, and has managed to appeal to families, seniors and millennials, cutting across generations. It has held its own and boosted revenue to $8.5 billion in 2019, up from $8 billion in 2018, a 5.3 percent spike, despite the rocky traffic concerns plaguing many restaurants.
In 2019, it included 866 Olive Garden's, 514 LongHorn Steakhouses, 161 Cheddar's Scratch Kitchen, 79 Yard Houses, 58 The Capital Grilles, 42 Bahama Breezes, 44 Seasons 52 restaurants, and 21 Eddie V's, totaling 1,785 restaurants. That number was up 1,746 restaurants year-over-year—no small feat in an industry where many restaurant groups consolidated. It serves more than 400 million people annually.
READ MORE: WHY DARDEN IS THRIVING IN THE 'WAR FOR TALENT'
One of Darden's keys to success has been in investing in and promoting its staff. In fact, it spent $40 million in training in 2019, and almost half of its 6,300 restaurants managers are promoted from within, and 90 percent of its general managers and managing partners are internally promoted.
Writing in Forbes.com, in 2018, investment manager Jon Markman attributed Darden's success to staying one step ahead in online ordering and pick-up. In addition, its Buy One, Take One Olive Garden promotion, enabling customers to purchase one entrée and take home a second one proved successful. As did its "Never Ending Pasta Bowl" offering.
Hence Darden demonstrated that to be successful in 2019, restaurant chains have to stay current with technology, give value for a meal, and stay tuned to customer needs.
Brands: Morton's The Steakhouse, Chart House, Saltgrass Steak House, Bubba Gump Shrimp Co., Joe's Crab Shack, many others
When the going gets tough for casual-dining restaurants, Tilman Fertitta, who owns Landry's Restaurant Group, pounces. He has built a budding empire acquiring bankrupt and struggling restaurant chains at rock-bottom prices, often assuming their debt.
Since 2010, he bought a bevy of chains, including: McCormick & Schmick's, The Oceanaire, Morton's Steakhouse, and Bubba Gump Shrimp Co. Landry's has expanded to more than 60 brands and generated $2.6 billion in 2018.
Fertitta turned Landry's seafood restaurant, which he acquired from the original owners, into a hit. He was raised in the restaurant business since his dad ran Pier 23 on Galveston Island, near Houston.
Fertitta, a billionaire, also owns the Golden Nugget Casinos and the NBA's Houston Rockets. He once acquired the Trump Marina Hotel and Casino in Atlantic City, New Jersey, and turned it into a Golden Nugget.
More recently, in 2019, Landry's acquired Del Frisco's Double Eagle Steakhouse and Del Frisco's Grille from private equity firm L Catterton. And it is reported to have offered $40 million to gain control of Houlihan's Restaurants Inc, the bankrupt casual-dining chain.
Brands: Urban Farmer Steakhouse, Original Dinerant, Kachina Cantina, Emporium Kitchen, Hello Betty, The Corner Office, Mercat a la Planxa, Departure
The Sage Restaurant Group, run by two cutting-edge entrepreneurs, Walter Isenberg and Zak Neumeyer, has garnered a reputation for restaurants that are hip and yet classy, with several located in upscale hotels, run by its hospitality group. Sage, which is based in Denver, operates high-end restaurants, coffee shops, bars and in cities such as Denver, Cleveland and Philadelphia.
Even some of their names, Hello Betty Fish House, Urban Farmer Steakhouse, and Mercat a la Planxa are idiosyncratic and offbeat.
Brent Berkowitz, COO of Sage Restaurant Group, says, "Just like having a diversified portfolio is a smart investment strategy, the same is true for us and our wide breadth of restaurant offerings." When there's an economic downturn that reduces fine-dining, its mid-priced eateries see a lift, he adds. As long as its consumers see "quality and a 'bang-for-the-buck" perception," its restaurants maintain steady traffic, Berkowitz says.
Moreover, Sage eateries appeal to a "large cross-section of guests, from millennials and hipsters to more seasoned diners and traditionalists," he says.
In 2020, Berkowitz says, the company expects to, "be on the lookout for new locations, including independent, non-hotel affiliated restaurants that will mark a departure from our regular operations."
Brands: Jaleo, China Chilcano, Beefsteak, Pepe, Zaytinya, Mercado Little Spain, The Bazaar, Minibar, China Poblano, America Eats Tavern, Oyamel Cocina Mexicana, Fish, Somni, Tres
José Andrés and his food group do it all: high-end Spanish restaurants, festive Mexican restaurants, bars, mini-bars, food trucks, the gamut. He also sells cookbooks and a range of Spanish culinary products, including virgin oil and Spanish seafood.
And Andrés has demonstrated a knack for staying in the spotlight and opening high-profile restaurants and food spaces that draw attention and attract a high-volume of customers. For example, in 2019, Andrés' Think Food Group was one of the three restaurateurs that debuted Mercado Little Spain, a 35,000 square-foot food hall in the new Hudson Yards complex in Manhattan that has been attracting hordes of tourists and locals.
Mercado Little Spain emulates a food market that one would experience in Madrid or Barcelona. It includes three full-service eateries, cocktail bars, a coffee shop, and three shops.
The group also launched another Jaleo's eatery (its fifth) at the Walt Disney World Resort in Lake Buena Vista, Florida, and opened its first fast-casual Beefsteak in Chicago. It's headquartered in Washington, D.C, where some of its powerhouse restaurants include Oyamel, Zaytinya, and China Chilcano.
Brands: Daniel, The Bar at Daniel, Bar Boulud, Boulud Sud, Café Boulud, Bar Pleiades, DB Bistro Moderne, Épicerie Boulud
Headquartered in New York City, the Dinex Group, previously called the Maison Boulud Group, is spearheaded by Michelin-rated chef Daniel Boulud. It owns a stable of eateries globally and domestically, in London, Singapore, Toronto and Montreal, and domestically in New York, Miami, Boston, Washington, D.C., and Palm Beach, Florida.
Boulud's flagship restaurant in New York, the eponymous Daniel, earned two-stars from the Michelin guide and catapulted his restaurant empire. In May 2018, Daniel celebrated its 25th anniversary in New York, which is no small feat considering the sky-high rents and competition.
Never one to rest on his laurels, Boulud is establishing a Dinex Group presence in a very large development project, near Grand Central Station, One Vanderbilt. It is slated to open in 2020 and will constitute New York's second largest tower, after the rebuilt World Trade Center.
On December 13, the company appointed Sebastien Silvestri (above left) as its first CEO. The company said he will lead Dinex Group's growth through "strategic acquisitions." Silvestri was formerly the COO at Disruptive Restaurant Group, a division of SBE, the parent company of Umami Burger.
"With the opening of our new dining concept as well as our fourth Épicerie Boulud both at One Vanderbilt in fall 2020, the multiple opportunities that have been presented to us for consideration in other parts of the world, our existing portfolio of 19 locations globally and a successful catering business, the time was right to engage the expertise of a veteran industry executive to help both fuel and manage our growth, as well as to ensure the level of excellence within our existing operation," Boulud said in a statement. "Sebastien has a tremendous track record for assisting some of the most revered hospitality businesses' experience remarkable growth, and I could not be more thrilled to have him by my side as we begin an exciting new era of Daniel Boulud restaurants."
Brands: Anchovy Social, Blue Smoke, Cedric's at The Shed, Cafes at MOMA, Caffe Marchio, Daily Provisions, Gramercy Tavern, Intersect by Lexus, Jazz Standard, Maialino, Maialino Mare, Manhatta, Marta, The Modern, Porchlight, Studio Café, Tacocina, Union Square Café, Untitled, Vini E Fritti
Restaurant visionary Danny Meyer, the founder of the Union Square Hospitality Group (USHG), has become as well-known for his hospitality as his food. And that's a rarity in restaurants these days, where convenience garners all the buzz.
Although fine-dining at Union Square Café and Gramercy Tavern established USHG's reputation, Meyer has shown deft versatility in being able to appeal to multiple audiences and price points. For example, his Shake Shack burger and malted joint, which started al fresco in Madison Square Park in Manhattan, was spun off as a public company.
His Blue Smoke barbecue joint became known for pan-regional barbecue but then expanded and broadened to include Texas-style brisket and baby-back ribs, and more unorthodox dishes such as Alabama white wings and turkey pastrami.
Meyer's moderately-priced bakery café Daily Provision near Union Square in Manhattan became revered for its tasty muffins and crullers, soups and salads, followed by serving tasty barbecue chicken for dinner.
In October 2019, he opened a second Daily Provisions on the Upper West Side of Manhattan. It wouldn't be surprising to see the brand expanding in the future.
Brands: L'Atelier de Joel Robunchon, Le Jardinier, Benno, Le Grill, Shun, La Table
Run by the New York-based investment boutique firm Invest Hospitality, this group operates a variety of restaurants with different culinary themes, including French, Italian, and Mediterranean. It owns 10 restaurants, with outposts in Houston and Miami. But Rachel Walensky, its director of marketing and communication, says all the eateries have one thing in common: they're all chef-driven.
In fact, Benno and Le Jardinier earned one-star from the 2020 Michelin Guide and L'Atelier de Joel Robunchon New York garnered two-stars.
"While we do not consider any of our properties to be chains—as they are all high-end restaurant brands, Invest Hospitality has created and/or opened restaurants with multiple locations," Walensky says. For example, it opened a second L'Atelier de Joel Robunchon in Miami in 2019, and a second Le Jardinier, also in Miami, in August 2019.
But Walensky says each eatery is dedicated to a "meticulous attention to detail, high-quality ingredients, an exceptional level of service, and ambiance and décor."
Brands: Ocean Prime, Del Mar SoCal Kitchen, Lincoln Social, The Avenue, The Barn, Cap City, Cameron's American Bistro, The Guild House, Hudson 29, M Restaurant/Lounge, Martini Modern Italian, Marcella's, Mitchell's Ocean Club, Molly Woo's Asian Bistro, The Pearl, Budd Dairy Food Hall (coming soon)
Cameron Mitchell Restaurants prides itself on producing innovative restaurant concepts attuned to its customers. In fact, its 36 restaurants stem from 15 different concepts that run the gamut from Asian, steak, and Italian and include Molly Woo's Asian Bistro, the Avenue Steak Tavern, and Martini Modern Italian.
In 2020, it plans to introduce Budd Dairy Food Hall.
One reason it has garnered so much continuity stems from founder Cameron Mitchell, who is still steering the ship and serving as CEO.
David Miller, president of Cameron Mitchell Restaurants, attributes its success to always "being a specialty restaurant creator, and if we were fortunate to have one of our concepts be very successful, we'd look to grow it outside of Columbus (where it is headquartered). He calls the restaurant group "opportunistic" and always on the prowl for a "location that inspires a new concept."
Brands: 99 Restaurant & Pub, O'Charley's, Village Inn, Baker's Square, Legendary Baking
Even though American Blue Ribbon Holdings is owned 66 percent by the public company Cannae Holdings, a $1.2 billion firm that also runs Dun & Bradstreet, it faced challenges in 2018. Its 2018 annual report noted that its restaurant group developed a "turnaround plan" that included reducing expenses, improving the customer experience, driving customer traffic, and boosting revenue.
Of its concept, 99 Restaurants had a strong year. It noted that it was a "standout performer that outperformed the market and generated strong free cash flow."
Craig Barber, CEO of American Blue Ribbon Holdings, says one of its major strategic initiatives for 2019 "includes continued refinement of the restaurant portfolio, including closing 46 restaurants through the third quarter." It also sold $28 million worth of real-estate in that same period.
In addition, reducing headcount, consolidating its Nashville support center and closing its Legendary Baking plant in California, "yielded more than $20 million in incremental annual cash flow," Barber says.
Moreover, it focused on boosting each restaurant's performance, zeroing in on sales and margins, and shedding lower margin eateries.
Shrinking weaker performing locations will result in improved margins, Barber says. For example, O'Charley's shuttered 23 of those planned 46 restaurants to date. That downsizing resulted in "higher margins and improved cash flow with lower overall sales," he says.
Another bright spot was the spike in off-premises sales or delivery, which has risen to 20–25 percent of all premise revenue, depending on the location.
Brands: The Southern Gentleman, Gypsy Kitchen, The Blind Pig, Milton's Cuisine & Cocktails, The Big Ketch Saltwater Grill, Ocean & Acre, Tin Lizzy's, Chido & Padre's Baja Mexicana, Beni's Cubano, Artisan Hospitality, Street Taco
Southern Proper Hospitality operates 23 restaurants, mostly in Atlanta and its environs, but it has expanded with Tin Lizzy's Cantina to Tallahassee, Florida, and Greenville, South Carolina, and the Monte Vista Boutique Hotel in Black Mountain, North Carolina.
Alex Curley, its chief operating officer, says that what unifies the company's stable of eateries, "is our hospitality. Whether a guest is settling in for a weekend at the Monte Vista Hotel or partying late night at the Blind Pig Parlous Bar, we recognize that they want and deserve to experience the highest level of genuine hospitality."
Having multiple units enables it to "appeal to everyone," Curley adds. "By having so many different approaches, from sexy tapas, to laid-back beach bar to late-night speakeasy, to higher-end seafood, we widen the scope of guests."
Despite the turbulence in the industry, Curley says, Southern Proper Hospitality focused on adding staff and talent to appeal to a wide-range of customers. "The guest," he says, "doesn't care about market trends or labor laws or the cost of a case of avocados. They want a world-class experience."
In 2020, Curley says it plans on opening a rebrand of Tin Lizzy's in Atlanta, its first Gypsy Kitchen in Washington D.C., and several other projects are in the works.
In mid-November, the company named Juan Rivera (pictured above) corporate chef, overseeing menu engineering, kitchen design, and the hiring and development of staff. He most recently served as the senior executive chef for Barcelona Wine Bar for two years.