Although restaurant sales have been healthy of late, traffic is a different story. Much of the top-line push through recent quarters has arrived via price versus guest counts. A recent study from global payments company WorldRemit showed 55 percent of diners plan to eat out less due to cost of living increases. What some executives and brands mentioned is consumers aren't necessarily cutting back when they do show up—they're just showing up less often.
All said, a more discerning diner raises the stakes for brand love and execution. In this story, we'll focus on the first with exclusive data from Savanta, which drew consumer insight from opinions of more than 72,000 people from its marketing intelligence platform, BrandVue Eating Out. The annual report explores diners' thoughts on hallmark categories and the evolution of American palates, as well as where takeout business is headed.
How Savanta calculates "brand love" is the percentage of people stating that they "love" a concept, based on the question: "What is your opinion of the following brand," with option 1 being love and option 7 being hate. The league table of its Top 100 Eating Out Brands is created by ranking the organizations by their Brand Love score, having met suitable brand awareness criteria.
The category medalists:
Burger
1. McDonald's
2. In-N-Out
3. Wendy's
Asian
1. Panda Express
2. Noodles & Company
3. P.F. Chang's
Café or bakery
1. Starbucks
2. Dunkin'
3. Dutch Bros.
Chicken
1. Chick-fil-A
2. Raising Cane's
3. KFC
Delivery
1. Caviar
2. DoorDash
3. UberEats
Family style
1. Cracker Barrel
2. IHOP
3. Golden Corral
Frozen dessert
1. Cold Stone
2. Rita's
3. Baskin-Robbins
Italian or pizza
1. Olive Garden
2. Pizza Hut
3. Pizza Ranch
Mexican
1. Taco Bell
2. Chipotle
3. Uncle Julio's
Sandwich
1. Subway
2. Jason's Deli
3. McAlister's Deli
Seafood
1. Red Lobster
2. Captain D's
3. Bonefish Grill
Specialty
1. Krispy Kreme
2. Auntie Anne's
3. Cinnabon
Steak
1. Texas Roadhouse
2. Outback
3. LongHorn
Varied Menu
1. Cheesecake Factory
2. Joe & The Juice
3. Applebee's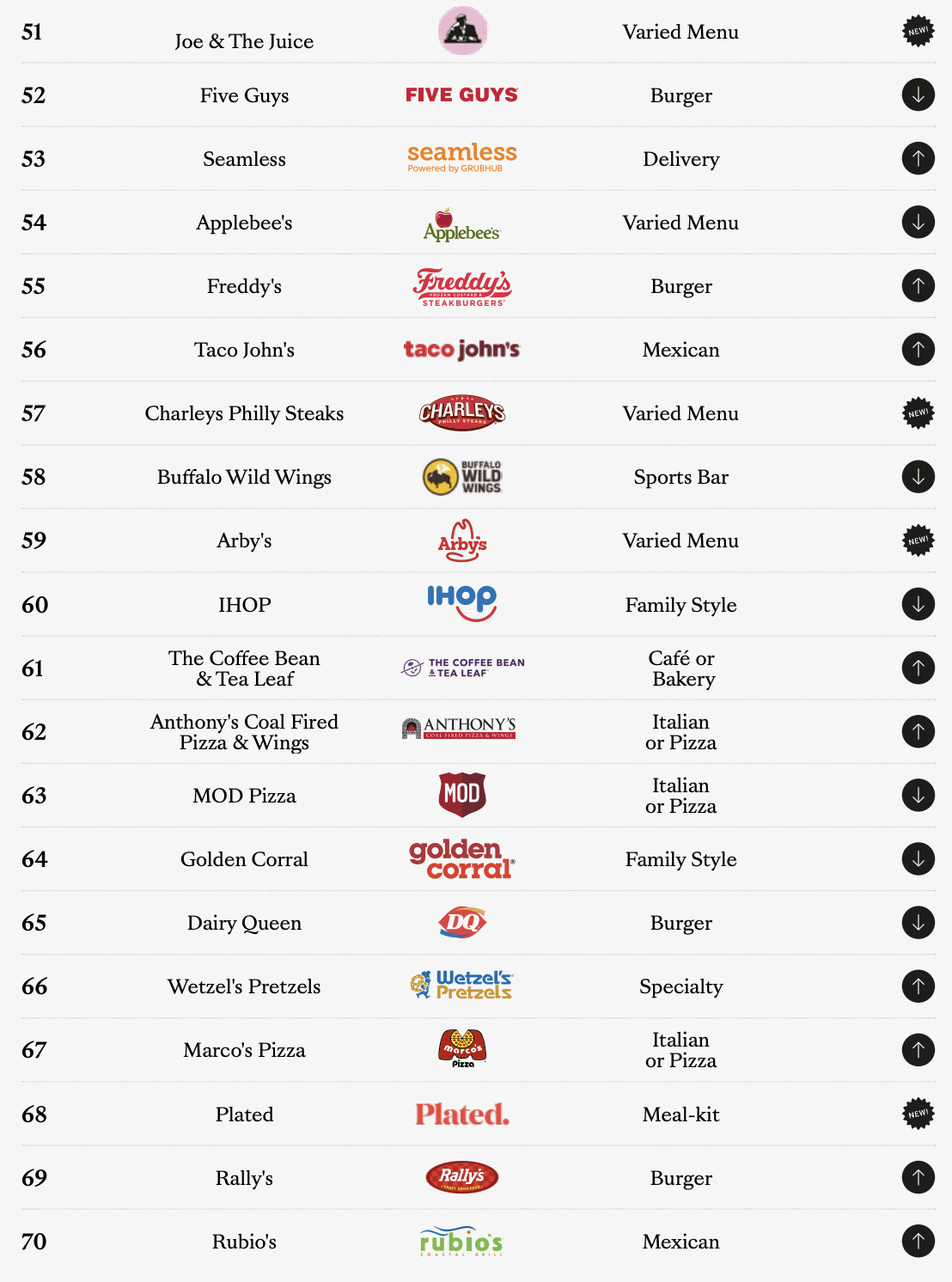 Trends and reveals
Taco Bell broke into last year's Top 10 and has stuck around. Savanta pointed to a few viral-type moments that appear to have anchored the brand's spot atop consumer conscious. One being its Taco Tuesday trademark back-and-forth, which lasted two months and concluded with Taco John's abandoning registration after 34 years. Taco John's pledged a donation of $100 per location to nonprofit Children of Restaurant Employees in conjunction. For Taco Bell, the brand began the process through a petition where it claimed "Taco Tuesday" was a generic term that had become too commonplace. To bolster its efforts, the Mexican giant deployed NBA star LeBron James in an ad titled "Taco Bleep" to highlight what it called "the absurdity of 'Taco Tuesday' being trademarked" and also encouraged "the taco community to join together in support of the liberation movement."
Taco Bell celebrated by opening a $5 million DoorDash taco tab for September 12, which covered orders from any Mexican outlet, not just Taco Bell. "A distinctive social media strategy wins through a bold take on subliminal instant messaging [i.e, 'the best nights end with taco bell'), and for the last two Super Bowls, marketers have done a great job capitalizing on the hype for their Mexican Pizzas," Savanta said.
Out of the eight Mexican brands in the Top 100, nearly all of them gained momentum year-over-year. Uncle Julio's rose 19 spots; Taco John's 19 as well; Rubio's 26; El Pollo Loco 18; Del Taco eight, and QDOBA five. Chipotle slipped four spots but held to its title as the No. 2 most-loved brand in its category.
A broader evolution that surfaced in the report was a shift in preference. The country's profile, Savanta said, has progressed from a predominantly meat-and-potatoes diet to one that embraces a diverse spectrum for global cuisines. Additionally, culinary innovations that highlight ethical and environmental considerations, continue to show higher.
Savanta's data revealed, while classic American burger joints dipped somewhat, various global flavors climbed. "While traditional cuisines remain comfort foods in many households, we see long-term changes in day-to-day dining preferences. From Meatless Mondays to a completely plant-based diet, we see a rising prioritization of health, ethics, and the environment over tradition and culture when choosing our next meal," said Nicole Beremovica, research analyst, research, insights and consulting, at Savanta.
Overall, the Brand Love tide is rising. A quarter of Savanta's top 100 brands achieved year-over-year double-digit ranking climbs. In contrast, 2022 saw 46 risers, including new entrants, with only four seeing double-digit growth. Plus, 11 brands in the 2023 edition rocketed 20-plus spots. No brand did so last year.
DoorDash acquisition Caviar propelled 52 places, making the upmarket takeaway service the 2023 top year-over-year gainer. Seamless and Uber Eats subsidiary Postmates rose 32 and 35 spots, respectively. Outside of delivery services, the biggest gain came from Bloomin' Brands' Bonefish, which soared 39 ticks up to No. 89. Einstein Bros. (No. 91) jumped 36 spots. Other brands eclipsing the 30-plus number were Bojangles (31) and Tim Hortons (34).
Brands that climbed 20 or more places: Pizza Ranch (29); Wingstop (27); Wetzel's (22); and Rubio's (70).
Meanwhile, Burger King, Dairy Queen, Five Guys, Whataburger, and Shake Shack each slid at least 10 places.
Is this variety-fueled trend-line part of a nascent movement? Savanta believes younger diners have begun to flex spending power. And the rise of Instagram likely played a role, too, given some customers are looking for food they can show the world versus just fueling up.
Off-premises in demand
Every delivery brand in Savanta's top 100 improved its year-over-year ranking. It's a sign, as much as anything, of the category's breadth. Nine in 10 U.S. consumers are aware of DoorDash (92 percent) and Uber Eats (88 percent). DoorDash, at No. 27, ticked up 11 places since last year. Savanta credited its "We Get Groceries" push as one lever. Uber Eats—14 spots up to No. 42—used a Super Bowl ad spot to promote its Uber One membership that flat-rates the fee as a subscription service.
Moving into groceries, delivery services are coming into competition with supermarkets, plus the meal-kit category led by Plated (No. 68). "Will grocery deliveries drive growth for DoorDash, or has the brand bitten off more than it can chew? So far, it's the former but watch this space. In this disruptive sector, DoorDash isn't the only competitor that makes its moves quickly," Savanta said.
Added Chick Woelfel, SVP, research, insights, and consulting: "Historical context reveals that Americans have long favored convenience, from TV dinners in the 1950s to today's on-demand food apps. As delivery apps encroach on territories traditionally held by supermarkets and meal-kit services, the dynamic and fiercely competitive nature of this industry demands careful observation."